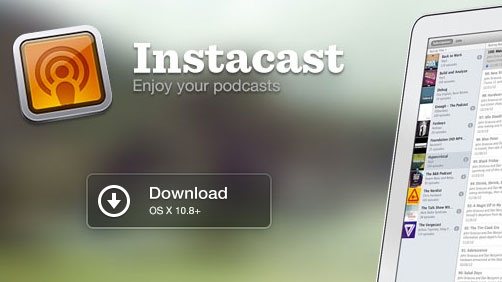 Vemedio
After a few weeks of beta testing, we're very happy to announce that Instacast for Mac v1.0 is now available to download and purchase! We'd like to thank everyone who has participated in the beta as well all those who generously contributed to Instacast for Mac's localisation through Twitter.
I mentioned the public beta a couple weeks ago so I thought it only fair to mention that 1.0 is out now for your downloading and podcast listening pleasure. I've been using the beta since the day that it has come out and they sure improved the product and got to 1.0 in a hurry. I have not had any sync issues, or crashes or anything really for the last two updates, and now of course, 1.0. I am extremely happy with this podcasting solution. When I'm at my Mac and want to listen to a podcast (which is fairly often), Instacast for Mac is in sync with where I left off on my iPhone. Played and unplayed status, subscriptions and all that syncs perfectly over the air. This is a real game changer for me.
Of course, just as soon as you download Instacast, you'll want to head over and subscribe to The MovieByte Podcast, The Wrap, and Movieology. I mean, obviously, that's why podcast clients exist is so you can subscribe to our shows.