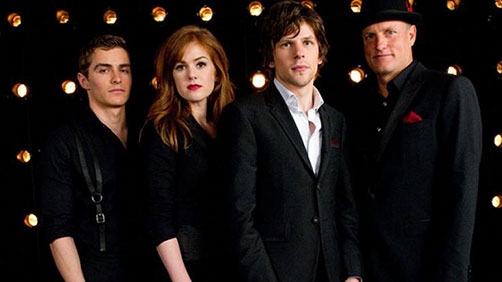 I'm really interested to see where this film is going, and even what genre it is. Is it fantasy? sci-fi? drama? it's a little strange. All these clips and trailers are making it look like there's truly something supernatural going on and not just illusion, placing it squarely in the fantasy and/or sci-fi genre.
In any event, it has certainly captured my interest. And the film has quite the cast with Jesse Eisenberg, Mark Ruffalo, Woody Harrelson, Isla Fisher, Michael Caine, Morgan Freeman, and more. I mean that's quite a bit of star power, right? So that certainly says to me the filmmakers and the studio are expecting a hit.
Here's a clip from the upcoming film which shows the illusionists robbing a bank in Paris — from Las Vegas. It appears to be pretty fantasy/sci-fi to me.
The film releases to general audiences on May 31.