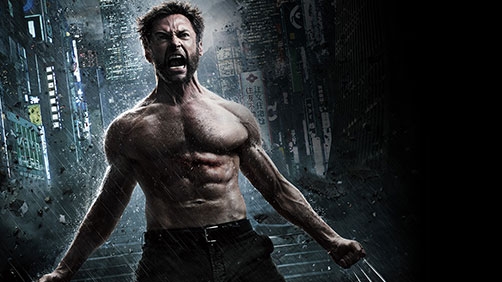 Peter Sciretta - /Film
Alright, one more thing for The Wolverine today:
On November 1st 2012, I visited the set of The Wolverine in Sydney, Australia. To give you an idea of the timeline of my visit, Hurricane Sandy had just wreaked havoc in New York, and I woke up early one morning from the constant noises coming from my computer because I was getting so many notices of the breaking news that Disney had purchased LucasFilm and was making more Star Wars movies.

It is five in the morning and I'm standing in a street lined with Japanese houses covered with snow. The elaborate set was built in a huge parking lot that was built for the 2000 Olympic games. Flakes of snow fall as ninjas run and ride motorcycles along the rooftops. Hugh Jackman is hanging off the top of a snow plow as it barrels down the street, away from a crowd of masked ninjas. Jackman, employing safety harnesses, flips to his feet on top of the snowplow and "activates" his claws. The second unit director calls "cut", and Hugh notices our little grouping of press off in the corner and yells out "So you guys a pulling an all nighter? Why don't you put some ninja suits on and get in the action?"

After the jump you will find a compilation of interesting facts I learned while visiting the set.
Again, lots of fun stuff here, and details that you won't necessarily find out from the Q&A link I posted a few minutes ago.