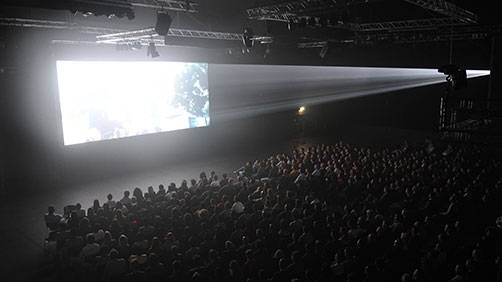 I'm thinking Star Trek Into Darkness may still be the best thing to see in theaters this week as far as I'm concerned. The new releases this weekend are not looking great. I'll be seeing Epic because we're reviewing it on the Podcast next week, and because I'm mildly interested, and because I've already seen Star Trek Into Darkness twice.
Here's what we've got:
New This Weekend
Epic - PG
This actually looks a little bit interesting, but that's all I can muster to say about it. So, kind of "meh." It looks like they've mixed a little Ferngully with a little Avatar, then added a smidge of originality and now they have a film called Epic. I don't know, I'll give it a chance I guess. Although the fact that it's the same people behind the Ice Age stuff doesn't make me feel particularly warm inside.
EPIC tells the story of an ongoing battle deep in the forest between the forces of good and the forces of evil. When a teen age girl finds herself magically transported into this secret universe, she must band together with a rag-tag team of fun and whimsical characters in order to save their world…and ours.
1 hr 43 min
PG | for mild action, some scary images and brief rude language
Cast: Beyoncé Knowles, Colin Farrell, Josh Hutcherson, Amanda Seyfried, Christoph Waltz
Director: Chris Wedge
Genres: Animated, Family
See or not: Maybe.
---
Fast and Furious 6 - PG-13
I'm fairly certain this film represents everything wrong with cinema and I have no plans to see this film.
Since Dom (Vin Diesel) and Brian's (Paul Walker) heist in Rio left them and their crew very rich people, they've scattered across the globe; however, they must still live as fugitives, unable to return home to their families. Meanwhile, Agent Hobbs (Dwayne Johnson) has been tracking a gang of lethally skilled mercenary drivers whose second-in-command is someone Dom knows. Unable to take them down himself, Hobbs asks Dom and his crew for help in exchange for full pardons for everyone.
2 hr 10 min
PG-13 | Intense Sequences of Violence, Intense Sequences of Action, Language, Mayhem Throughout and Some Sexuality
Cast: Vin Diesel, Paul Walker, Dwayne Johnson, Jordana Brewster, Michelle Rodriguez
Director: Justin Lin
Genres: Action/Adventure
See or not: I'm thinking not.
---
The Hangover Part III - R
Same thing I said about the previous film on this list.
It's been two years since the gang known as the Wolfpack narrowly escaped disaster in Bangkok. Now, Phil (Bradley Cooper), Stu (Ed Helms) and Doug (Justin Bartha) have happy lives at home—but Alan (Zach Galifianakis) doesn't. Still lacking contentment and a sense of purpose, Alan has gone off his meds and surrendered to his natural impulses. It's up to the other members of the Wolfpack to get him through his personal crisis by embarking on a road trip to the place it all began: Las Vegas.
1 hr 40 min
R | Drug Content, Brief Graphic Nudity, Pervasive Language, Sexual References and Some Violence
Cast: Bradley Cooper, Ed Helms, Zach Galifianakis, Justin Bartha, Ken Jeong, John Goodman
Director: Todd Phillips
Genres: Comedy
See or not: I'm fairly confident in saying NOT!
---
Still In Theaters
Star Trek Into Darkness - PG-13
I greatly enjoyed this film and liked it a lot better than J.J.'s first installment in the reboot of this franchise. I gave my preliminary report of the film over here, and we talked about it on The MovieByte Podcast with Anthony Pascale of TrekMovie.com. Even Joe, who is not a Trekkie enjoyed the film and we had good fun discussing it, even nitpicking it. I also wrote a review you may want to check out.
One caveat though, I would recommend seeing the film in standard 2D. the 3D does nothing for the film.
The crew of the Starship Enterprise returns home after an act of terrorism within its own organization destroys most of Starfleet and what it represents, leaving Earth in a state of crisis. With a personal score to settle, Capt. James T. Kirk (Chris Pine) leads his people (Zachary Quinto, Karl Urban, Zoë Saldana) on a mission to capture a one-man weapon of mass destruction, thereby propelling all of them into an epic game of life and death.
2 hr 12 min
PG-13 | Intense sequences of sci-fi action and violence.
Cast: Chris Pine, Zachary Quinto, Karl Urban
Director: J.J. Abrams
Genres: Action/Adventure, Sci-Fi/Fantasy
See or not: SEE SEE SEE!
The MovieByte Podcast #45: My Name Is… »
Star Trek Into Darkness - Review »
Preliminary 'Star Trek Into Darkness' Report »
Recommended Review of 'Star Trek Into Darkness' »
3 More 'Star Trek Into Darkness' TV Spots »
"Somewhat Irascible and Cantankerous" - 'Star Trek Into Darkness' »
'Star Trek Into Darkness' TV Spots with New Release Date »
More 'Star Trek Into Darkness' Goodies »
Keep Going, Scotty! - 'Star Trek Into Darkness' Clip 4 »
'Star Trek Into Darkness' Clip - "I Allow It" - Plus Thoughts and Opinions »
The MovieByte Podcast #40: Decking Wesley »
'Star Trek Into Darkness' Final Trailer »
---
Iron Man 3 - PG-13
This is a pretty great installment in the Marvel Universe. And I loved that it wasn't just about the suits and another guy with suits more powerful than Iron Man's suit, etc. etc. This movie had heart, and it was a story about the characters, not the metal that the characters wear. And there were some surprises to the plot that were unexpected, unlike Iron Man 2, which felt a little bit like a paint by numbers job. Definitely worth seeing this one! We talked about this film on Episode 43 of The MovieByte Podcast, and we warned about spoilers when we got to them, so check that out.
Marvel's "Iron Man 3" pits brash-but-brilliant industrialist Tony Stark/Iron Man against an enemy whose reach knows no bounds. When Stark finds his personal world destroyed at his enemy's hands, he embarks on a harrowing quest to find those responsible. This journey, at every turn, will test his mettle. With his back against the wall, Stark is left to survive by his own devices, relying on his ingenuity and instincts to protect those closest to him. As he fights his way back, Stark discovers the answer to the question that has secretly haunted him: does the man make the suit or does the suit make the man?
2 hr 20 min
PG-13 | Sequences of intense sci-fi action and violence throughout, and brief suggestive content
Cast: Robert Downey, Jr., Gwyneth Paltrow, Don Cheadle, Guy Pearce, Rebecca Hall
Director: Shane Black
Genres: Action/Adventure
See or not: See
The MovieByte Podcast #43: She Was Totally Gangsta »
Iron Man 3 - Where's my Super Suit? - Review »
Trailer for the Upcoming 'Iron Man 3' Trailer »
'Iron Man 3' Official Trailer is Here! »
'Iron Man 3' "Extended" Look »
Newest Trailer for 'Iron Man 3' »
'Iron Man 3' TV Spot »
'Iron Man 3' Clip - Tony Is Not Afraid »
'Iron Man 3' Featurette and TV Spots »
Tony Stark's House Blowing Up Around Him »
Tony Stark Has Heart to Heart with Pepper »
Two More 'Iron Man 3' TV Spots »
---
The Great Gatsby - PG13
I really didn't enjoy the 1974 version with Robert Redford very much at all, from a lack of good story telling, inept editing, poor morals, upholding bad people as heroes and more, that film was simply bad. On the one hand I'm happy to say that Baz Luhrmann's The Great Gatsby does not suffer from nearly as many problems as that previous film based on the same source material. In fact much of the story telling, style, editing and much more is top shelf. I immensely enjoyed the film on that level. And in fact while the previous version in 1974 suffered from very poor casting choices, this film was so perfectly cast that it's hard to imagine anyone else in these roles. Leonardo DiCaprio plays Gatsby so much better than Redford it's not even funny, and Carrie Mulligan's Daisy Buchanan is far better. And while many will have a problem with Tobey Maquire because people just seem to have a problem with him, I thought he was perfect.
With all that though, I still find the story, and what it implicitly upholds troubling. If it would have cast a bit more judgement on the morality of what Gatsby was doing, I would have been far happier with this film. I am not arguing for a preachy film, but as the film currently stands, Gatsby seems like a hero, and he certainly is not — trying to take another man's wife is not a hero, I don't care what kind of relationship he had with her before she was married or how much she hurt him. So with that in mind I've only given the film 3 stars out of 5 despite how well it was made and despite what could have been a great film but for the ending narration of our protagonist.
Be sure to check out my reivew, and The MovieByte Podcast Episode #44 for more on this film.
Nick Carraway, a Midwesterner now living on Long Island, finds himself fascinated by the mysterious past and lavish lifestyle of his neighbor, Jay Gatsby. He is drawn into Gatsby's circle, becoming a witness to obsession and tragedy.
2 hr 22 min
PG-13 | some violent images, sexual content, smoking, partying and brief language
Cast: Leonardo DiCaprio, Tobey Maguire, Carey Mulligan, Isla Fisher, Joel Edgerton
Director: Baz Luhrmann
Genres: Drama, Romance
See or not: a weak see with the appropriate caveats taken into account
The Great Gatsby Does Not Repeat the Past - Review »
The MovieByte Podcast #44: Old Sport »
Apple Trailers Page »
'The Great Gatsby' UK Trailer »
'The Great Gatsby' 30 Second Spot »
---
The Croods - PG
My first thought when I saw the trailer for this film was, "oh, please" but after another trailer or two I'm sort of warming up to it (my favorite scene in the latest trailer is where the girl screams bloody murder about shoes, then says, "I love them! Where are my feet?"). But I really have no good idea which way this film will go.
THE CROODS is a comedy adventure that follows the world's first modern family through the journey of a lifetime. When the cave that has always been their home is destroyed – with the rest of their world not far behind it – The Croods are forced to set off on the first family road (or path) trip. Rocked by generational clashes and seismic shifts, The Croods discover an incredible new world filled with fantastic creatures, and a future beyond any they imagined.
PG | Some scary action
Cast: Nicolas Cage, Emma Stone, Ryan Reynolds, Catherine Keener, Cloris Leachman, Clark Duke
Director: Kirk De Micco, Chris Sanders
Genres: Action/Adventure, Animated, Family
See or not: Not willing to say yet
---
42 - PG-13
Jackie Robinson was the first black Major League Baseball player. It also means he was the focus of much scorn, criticism, and racism. If there's one thing I can't stand, it's racism.
While I am not a big sports fan, I thought this film was FANTASTIC! and I highly recommend that you see this film right away! Joe reviewed the film, and we both gave it 4.5 of 5 stars on The MovieByte Podcast. Give that a listen for more details of this wonderful film.
"42" tells the story of two men—the great Jackie Robinson and legendary Brooklyn Dodgers GM Branch Rickey—whose brave stand against prejudice forever changed the world by changing the game of baseball. In 1946, Branch Rickey (Harrison Ford) put himself at the forefront of history when he signed Jackie Robinson (Chadwick Boseman) to the team, breaking Major League Baseball's infamous color line. But the deal also put both Robinson and Rickey in the firing line of the public, the press and even other players. Facing unabashed racism from every side, Robinson was forced to demonstrate tremendous courage and restraint by not reacting in kind, knowing that any incident could destroy his and Rickey's hopes.
PG-13 | Thematic elements, including language
Cast: Chadwick Boseman, Harrison Ford, Nicole Beharie, Christopher Meloni
Director: Brian Helgeland
Genres: Documentary
See or not: See
The MovieByte Podcast #40: Decking Wesley »
42 - Review »
'42' Trailer »
---
Pain & Gain - R
Michael Bay has consistently (with one exception) turned out films that are anywhere from mediocre, to complete and utter trash. This film looks like it's closer to the trash side of the gage to me. I admit to having bias against the guy because I hate the Transformers franchise so much, but seriously, I am not the least interested in this film.
Daniel Lugo (Mark Wahlberg) is a regular bodybuilder who works at the Sun Gym along with his friend Adrian Doorbal (Anthony Mackie). Sick of living the poor life, Lugo concocts a plan to kidnap Victor Kershaw (Tony Shalhoub), a regular at the gym and a rich, spoiled businessman, and extort money from him by means of torture. With the help of recently released criminal Paul Doyle (Dwayne Johnson), the "Sun Gym Gang" successfully gets Kershaw to sign over all his finances. But when Kershaw survives an attempted murder by the gang, he hires private investigator Ed Du Bois (Ed Harris) to catch the criminals after the Miami Police Department fails to do so.
2 hr 9 min
R | Crude Sexual Content, Bloody Violence, Drug Use, Language Throughout and Nudity
Cast: Mark Wahlberg, Dwayne Johnson, Anthony Mackie, Tony Shalhoub, Ed Harris, Rob Corddry
Director: Michael Bay
Genres: Action/Adventure, Comedy
See or not: Not
---
Oblivion - PG-13
Allow me to highly recommend this film! I saw it opening night, and let me tell you it was an awesome film and I highly recommend it. I rated it 4 of 5 stars in my review and we discussed the film on The MovieByte Podcast. Be sure to read the review and listen to the podcast, but be sure to see the film!
In the year 2077, Jack Harper (Tom Cruise) works as a security repairman on an Earth left empty and devastated after a war with aliens. Jack has two weeks left before his mission ends and he joins his fellow survivors on a faraway colony. However, Jack's concept of reality comes crashing down after he rescues a beautiful stranger (Olga Kurylenko) from a downed spacecraft. The woman's arrival triggers a chain of events that culminates in Jack's nearly single-handed battle to save mankind.
2 hr 5 min
PG-13 | Nudity, Brief Strong Language, Sci-Fi Action Violence and Some Sensuality
Cast: Tom Cruise, Olga Kurylenko, Morgan Freeman, Andrea Riseborough, Nikolaj Coster-Waldau, Melissa Leo
Director: Joseph Kosinski
Genres: Action/Adventure, Sci-Fi/Fantasy
See or not: See
The MovieByte Podcast #41: Everybody is Taller Than He Is »
Oblivion - Review »
Another New 'Oblivion' Trailer »
New 'Oblivion' Trailer »
Joseph Kosinski Interviewed about 'Oblivion' »
Two 'Oblivion' Featurettes »
Stream Entire 'Oblivion' Score Right Here »
'Oblivion' - New Clips and IMAX Featurette »
'Oblivion' Featurette: Sky Tower »
Two TV Spots from 'Oblivion' »
Another 'Oblivion' Featurette »
Oblivion Featurette »
---
Safe Haven - PG-13
Looks sappy and stupid to me. But you never know.
An affirming and suspenseful story about a young woman's struggle to love again, Safe Haven is based on the novel from Nicholas Sparks, the best-selling author behind the hit films The Notebook and Dear John. When a mysterious young woman arrives in a small North Carolina town, her reluctance to join the tight knit community raises questions about her past. Slowly, she begins putting down roots, and gains the courage to start a relationship with Alex, a widowed store owner with two young children. But dark secrets intrude on her new life with such terror that she is forced to rediscover the meaning of sacrifice and rely on the power of love in this deeply moving romantic thriller.
Rated PG-13 for Thematic material involving threatening behavior, and for violence and sexuality
Cast: Josh Duhamel, Julianne Hough
Director: Lasse Hallström
See or not: Probably Not