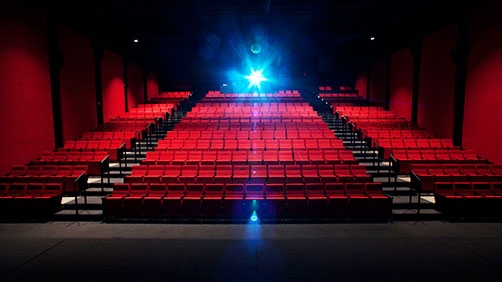 Hey, look at that! There's actually a new film out worthing seeing this weekend! Let's take a look.
Opening This Weekend
Iron Man 3 - PG-13
This is a pretty great installment in the Marvel Universe. And I loved that it wasn't just about the suites and another guy with suites more powerful than Iron Man's suit, etc. etc. This movie had heart, and it was a story about the characters, not the metal that the characters wear. And there were some surprises to the plot that were unexpect, unlike Iron Man 2, which felt a little bit like a paint by numbers job. Definitely worth seeing this one! We'll be talking about this film on The MovieByte Podcast next Wednesday so be sure to tune in for our discussion on the live broadcast or catch the episode when it is posted the next day.
Marvel's "Iron Man 3" pits brash-but-brilliant industrialist Tony Stark/Iron Man against an enemy whose reach knows no bounds. When Stark finds his personal world destroyed at his enemy's hands, he embarks on a harrowing quest to find those responsible. This journey, at every turn, will test his mettle. With his back against the wall, Stark is left to survive by his own devices, relying on his ingenuity and instincts to protect those closest to him. As he fights his way back, Stark discovers the answer to the question that has secretly haunted him: does the man make the suit or does the suit make the man?
2 hr 20 min
PG-13 | Sequences of intense sci-fi action and violence throughout, and brief suggestive content
Cast: Robert Downey, Jr., Gwyneth Paltrow, Don Cheadle, Guy Pearce, Rebecca Hall
Director: Shane Black
Genres: Action/Adventure
See or not: See
Trailer for the Upcoming 'Iron Man 3' Trailer »
'Iron Man 3' Official Trailer is Here! »
'Iron Man 3' "Extended" Look »
Newest Trailer for 'Iron Man 3' »
'Iron Man 3' TV Spot »
'Iron Man 3' Clip - Tony Is Not Afraid »
'Iron Man 3' Featurette and TV Spots »
Tony Stark's House Blowing Up Around Him »
Tony Stark Has Heart to Heart with Pepper »
Two More 'Iron Man 3' TV Spots »
---
Still In Theaters
Pain & Gain - R
Michael Bay has consistently (with one exception) turned out films that are anywhere from mediocre, to complete and utter trash. This film looks like it's closer to the trash side of the gage to me. I admit to having bias against the guy because I hate the Transformers franchise so much, but seriously, I am not the least interested in this film.
Daniel Lugo (Mark Wahlberg) is a regular bodybuilder who works at the Sun Gym along with his friend Adrian Doorbal (Anthony Mackie). Sick of living the poor life, Lugo concocts a plan to kidnap Victor Kershaw (Tony Shalhoub), a regular at the gym and a rich, spoiled businessman, and extort money from him by means of torture. With the help of recently released criminal Paul Doyle (Dwayne Johnson), the "Sun Gym Gang" successfully gets Kershaw to sign over all his finances. But when Kershaw survives an attempted murder by the gang, he hires private investigator Ed Du Bois (Ed Harris) to catch the criminals after the Miami Police Department fails to do so.
2 hr 9 min
R | Crude Sexual Content, Bloody Violence, Drug Use, Language Throughout and Nudity
Cast: Mark Wahlberg, Dwayne Johnson, Anthony Mackie, Tony Shalhoub, Ed Harris, Rob Corddry
Director: Michael Bay
Genres: Action/Adventure, Comedy
See or not: Not
---
Oblivion - PG-13
Allow me to highly recommend this film! I saw it opening night, and let me tell you it was an awesome film and I highly recommend it. I rated it 4 of 5 stars in my review and we discussed the film on The MovieByte Podcast. Be sure to read the review and listen to the podcast, but be sure to see the film!
In the year 2077, Jack Harper (Tom Cruise) works as a security repairman on an Earth left empty and devastated after a war with aliens. Jack has two weeks left before his mission ends and he joins his fellow survivors on a faraway colony. However, Jack's concept of reality comes crashing down after he rescues a beautiful stranger (Olga Kurylenko) from a downed spacecraft. The woman's arrival triggers a chain of events that culminates in Jack's nearly single-handed battle to save mankind.
2 hr 5 min
PG-13 | Nudity, Brief Strong Language, Sci-Fi Action Violence and Some Sensuality
Cast: Tom Cruise, Olga Kurylenko, Morgan Freeman, Andrea Riseborough, Nikolaj Coster-Waldau, Melissa Leo
Director: Joseph Kosinski
Genres: Action/Adventure, Sci-Fi/Fantasy
See or not: See
The MovieByte Podcast #41: Everybody is Taller Than He Is »
Oblivion - Review »
Another New 'Oblivion' Trailer »
New 'Oblivion' Trailer »
Joseph Kosinski Interviewed about 'Oblivion' »
Two 'Oblivion' Featurettes »
Stream Entire 'Oblivion' Score Right Here »
'Oblivion' - New Clips and IMAX Featurette »
'Oblivion' Featurette: Sky Tower »
Two TV Spots from 'Oblivion' »
Another 'Oblivion' Featurette »
Oblivion Featurette »
---
42 - PG-13
Jackie Robinson was the first black Major League Baseball player. It also means he was the focus of much scorn, criticism, and racism. If there's one thing I can't stand, it's racism.
While I am not a big sports fan, I thought this film was FANTASTIC! and I highly recommend that you see this film right away! Joe reviewed the film, and we both gave it 4.5 of 5 stars on The MovieByte Podcast. Give that a listen for more details of this wonderful film.
"42" tells the story of two men—the great Jackie Robinson and legendary Brooklyn Dodgers GM Branch Rickey—whose brave stand against prejudice forever changed the world by changing the game of baseball. In 1946, Branch Rickey (Harrison Ford) put himself at the forefront of history when he signed Jackie Robinson (Chadwick Boseman) to the team, breaking Major League Baseball's infamous color line. But the deal also put both Robinson and Rickey in the firing line of the public, the press and even other players. Facing unabashed racism from every side, Robinson was forced to demonstrate tremendous courage and restraint by not reacting in kind, knowing that any incident could destroy his and Rickey's hopes.
PG-13 | Thematic elements, including language
Cast: Chadwick Boseman, Harrison Ford, Nicole Beharie, Christopher Meloni
Director: Brian Helgeland
Genres: Documentary
See or not: See
The MovieByte Podcast #40: Decking Wesley »
42 - Review »
'42' Trailer »
---
The Croods - PG
My first thought when I saw the trailer for this film was, "oh, please" but after another trailer or two I'm sort of warming up to it (my favorite scene in the latest trailer is where the girl screams bloody murder about shoes, then says, "I love them! Where are my feet?"). But I really have no good idea which way this film will go.
THE CROODS is a comedy adventure that follows the world's first modern family through the journey of a lifetime. When the cave that has always been their home is destroyed – with the rest of their world not far behind it – The Croods are forced to set off on the first family road (or path) trip. Rocked by generational clashes and seismic shifts, The Croods discover an incredible new world filled with fantastic creatures, and a future beyond any they imagined.
PG | Some scary action
Cast: Nicolas Cage, Emma Stone, Ryan Reynolds, Catherine Keener, Cloris Leachman, Clark Duke
Director: Kirk De Micco, Chris Sanders
Genres: Action/Adventure, Animated, Family
See or not: Not willing to say yet
---
Scary Movie V - PG-13
If I want to see trash, I'll stare at my garbage can. I don't need to go to the theater to see trash…
The latest installment of the SCARY MOVIE franchise includes send ups of PARANORMAL ACTIVITY, MAMA, SINISTER, THE EVIL DEAD, INCEPTION, BLACK SWAN and pop culture featuring Ashley Tisdale, Charlie Sheen, Lindsay Lohan, Snoop Dogg, Katt Williams, Molly Shannon, Terry Crews, Simon Rex, Jerry O'Connell, Sarah Hyland, Katrina Bowden, Tyler Posey, Shad Moss aka Bow Wow, Kate Walsh, Heather Locklear, Mac Miller and Mike Tyson. SCARY MOVIE V is directed by Malcolm Lee who teamed up and worked side by side with legendary comedy director David Zucker. Zucker wrote and directed SCARY MOVIE 3 and 4 and also co-wrote and produced SCARY MOVIE V. The SCARY MOVIE franchise, which lampoons the greatest in horror and genre fare, has grossed over $800 million worldwide.
PG-13 | Language, Crude and Sexual Content, Comic Violence and Gore, Partial Nudity and Some Drug Material
Cast: Ashley Tisdale, Charlie Sheen, Anthony Anderson, Regina Hall, Katt Williams
Director: Malcolm D. Lee
Genres: Comedy
See or not: NOT
---
G.I. Joe: Retaliation - PG-13
This film was a terrible, awful mess and not worthy of your attention. Be sure to catch me and Joe talking about it on The MovieByte Podcast. I also wrote a short and scathing review.
In the continuing adventures of the G.I. Joe team, Duke (Channing Tatum), second-in-command Roadblock (Dwayne Johnson), and the rest of the Joes (D.J. Cotrona, Byung-hun Lee) face a two-fold threat. Not only is their mortal enemy COBRA rearing its ugly head again, but there is also a threat from within the U.S. government: There might be an impostor in the White House. Meanwhile, Snake Eyes (Ray Park) is on a search for inner peace but learns that his nemesis, Storm Shadow, is still alive.
PG-13 | Intense Seq of Combat Violence, Brief Sensuality, Language and Martial Arts Action
Cast: D.J. Cotrona, Lee Byung-hun, Adrianne Palicki, Ray Park, Jonathan Pryce, RZA, Ray Stevenson, Channing Tatum, Elodie Yung, Bruce Willis, Dwayne Johnson
Director: Jon M. Chu
Genres: Action/Adventure
See or Not: Not
G.I. Joe: Retaliation - Review »
The MovieByte Podcast #39: Dads Don't Play With Toys »
Apple Trailers Page »
'G.I. Joe: Retaliation' Featurette »
'G.I. Joe: Retaliation' - Two New TV Spots »
---
I was pretty satisfied with this film, all things considered. I gave it a 4 of 5 star rating on The MovieByte Podcast. Joe only gives it 3 of 5 stars, and he wrote our review. But I recommend it a bit more than him. Be sure to check out the podcast and Joe's review.
The unthinkable happens when heavily armed and highly trained terrorists launch a bold daytime attack on the White House. The building is overrun, and President Benjamin Asher (Aaron Eckhart) and his staff are taken hostage. Luckily for Asher, former presidential security officer Mike Banning (Gerard Butler) is on the scene. With time running out, it's up to Banning to locate Asher's son before the extremists do and rescue the president before his captors unleash their ultimate plan.
R | Strong Violence and Language Throughout
Cast: Gerard Butler, Aaron Eckhart, Morgan Freeman, Angela Bassett
Director: Antoine Fuqua
Genres: Action/Adventure, Suspense/Thriller
See or not: See.
The MovieByte Podcast #37: Nuclear
Olympus Has Fallen - Review »
'Olympus Has Fallen' Trailer »
'Olympus Has Fallen' Featurette »
'Olympus Has Fallen' New TV Spot »