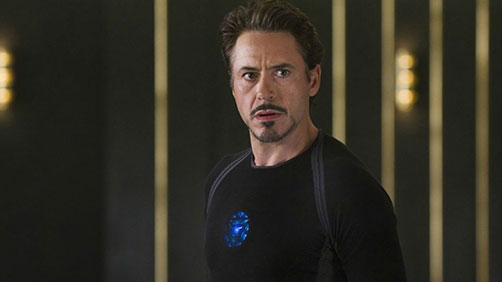 Nikki Finke - Deadline
I've learned he's already made $35 million from the actioner, which grossed $680 million worldwide in its first 12 days. He should exceed his biggest payday to date — that $50M from The Avengers which I've learned was more like $70M-$80M now that the film is all in. But it's reallyAvengers 2 where he'll clean up big-time — if he wants to reprise the role. He's hinting to some media it may be time to retire Tony Stark. And saying to other outlets that Marvel better show him more money for Avengers 2. "I don't know," he said on The Daily Show. "I had a long contract with them and now we're gonna renegotiate." ("You are Iron Man! You are!" cheered Jon Stewart.) I've learned that Marvel and therefore owner Disney are going to run into big trouble on that sequel because the upfront pay, backend compensation, break-even points and box office bonuses aren't pinned down yet for several big stars and castmates. This is major hurdle that Walt Disney Co Chaiman/CEO Bob Iger hasn't even mentioned to Wall Street or shareholders though he's already been hyping Avengers 2 for more than a year now.
Wowsers. Now, paired with this:
But The Avengers cast are ready to rumble with Marvel for the Avengers sequel slated for a May 2015 release. "Some received only $200,000 for Avengers and Downey got paid $50M. On what planet is that OK?" an insider tells me.
Yeah, exactly. But here's the thing, even though Avengers 2 is probably going to make a GOB of money, it's still a big deal to assemble that large of an ensemble cast. Frankly, I think Robert Downey Jr. needs to take a pay cut and a few others a pay raise. I know the article goes on to talk about how he's a champion for the other actors, how can he expect the studio to pay the other actors more when his price is so exorbitant? The studio is not in this for charity, they need to have good margins, they're going to be pushing the numbers around on paper and trying to make the films as profitable as possible.
Robert Downey Jr. is important to Marvel, no doubt, but at some point, he just becomes a jerk and I start thinking, "Well, maybe it's time for The Avengers to fly without him.
But, make no mistake, The Avengers 2 will happen because there's too much momentum and too many wheels turning and too much money to be made. And ultimately I expect each and every one of the main actors to come to an arrangement with Marvel. I hope the actors paid a "pittance" get a better deal, and I actually hope Downey takes a pay cut ($80M for Avengers? Seriously? when some others have only made $200,000. That's stupid crazy). But I'm not actually expecting him to take a pay cut, and I expect the studio will pay him whatever they need to because he is fairly important to the franchise, and he knows it.
You should really read the whole article, it's a good read.