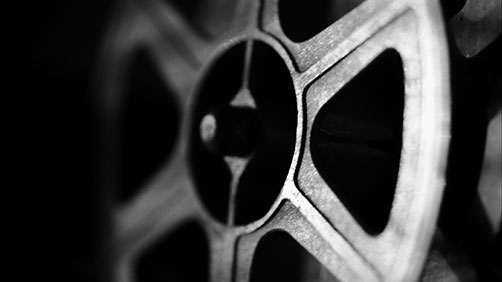 NPR
It's the end of an era at the Little Art Theatre in Yellow Springs, Ohio. On Tuesday, the theater will run its old, 35 mm film projector for the last time. Then, starting Wednesday, it will close for several months to install an expensive new digital projection system.

The Little Art's conversion comes in response to a sweeping mandate from big Hollywood studios that all of the country's theaters — big and small — convert to digital. The studios say they're going to stop offering their movies on film, so theaters that don't convert — or can't afford to — won't be able to screen new films.

In that sense, the Little Art is lucky. Unlike some small theaters, the nonprofit movie house raised hundreds of thousands of dollars to convert and will reopen soon enough. But Tuesday's screening is a bittersweet moment for Andy Holyoke, who has worked as the theater's projectionist for 35 years. He talks to NPR's Audie Cornish about his life as a projectionist and how the job will change.
It is the end of an era, but how could it not come? It's so much less expensive on so many fronts, and most theaters goers won't be able to tell the difference. I can tell the difference if I'm paying attention, but even as a professional, I don't care too much. In fact, while a good 35 mm film projection will outclass a digital projection, the key word there is "a good" projection. Most projectors aren't kept up well, the projectionist is young and doesn't care, and it winds up not looking as good. So while I have slightly mixed feelings about this, I'm not torn up over it.
"I'm the guy doing the work here, so I won't have to splice movies together and carry film cans up and down stairs. I see one of the great benefits as being when a movie is made and opens at 1,000 theaters all at once, they won't have to have 1,000 prints printed; they'll only have to make 1,000 discs, or maybe they'll even do it all over the Internet and there will be no discs."
Yeah, distributing to theaters via internet is already starting to be a thing, and it makes sense. It is a way to cut costs and remove points of failure.