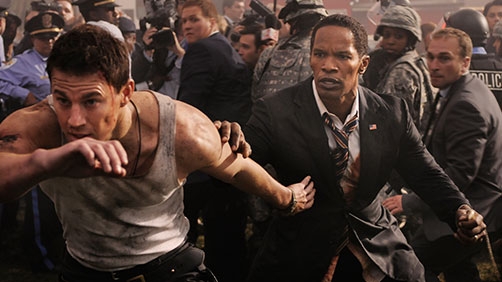 Could this possibly be any good. Actually, it looks like it "could" though I don't know if I'll hold my breath or anything. But this sort of things can be fun when done right.
Somehow, I missed the first trailer for this film as this appears to be trailer number 2. Indeed, I haven't heard much about it before now, but it looks like the film opens on June 28. It's directed by Roland Emmerich and stars Channing Tatum (which makes me a little suspicious, but then again, Roland Emmerich… well, come to think of it, he has a couple of decent movies but nothing I'm overly fond of. But my point is he is not known for putting out pointless drivel as far as I know.
Eh, we'll see. Here's the synopsis followed by the trailer.
In Columbia Pictures' White House Down, Capitol Policeman John Cale (Channing Tatum) has just been denied his dream job with the Secret Service of protecting President James Sawyer (Jamie Foxx). Not wanting to let down his little girl with the news, he takes her on a tour of the White House, when the complex is overtaken by a heavily armed paramilitary group. Now, with the nation's government falling into chaos and time running out, it's up to Cale to save the president, his daughter, and the country.