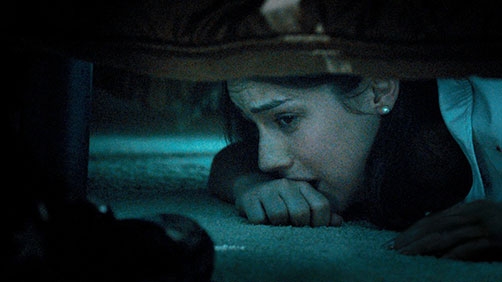 So, some film that I know nothing about has taken the top spot at the box office. I gotta get better at this apparently because I literally know nothing about this film except what I have read this morning. The budget might suggest why I haven't heard of it…
#1 – The Purge
Budget: $3 Million
Totals: $36.4 Million Opening Weekend Gross / $3.5 Million Foreign Gross / $39.9 Million Worldwide Total
Week Number: 1
What I currently know of this film after reading about it for two minutes looks suspiciously bad. It has garnered a 41% approval rating from the critics and 59% from the audience over on Rotten Tomatoes. Not great stats. Let me just put the film's description here:
If on one night every year, you could commit any crime without facing consequences, what would you do? In The Purge, a speculative thriller that follows one family over the course of a single night, four people will be tested to see how far they will go to protect themselves when the vicious outside world breaks into their home. In an America wracked by crime and overcrowded prisons, the government has sanctioned an annual 12-hour period in which any and all criminal activity-including murder-becomes legal. The police can't be called. Hospitals suspend help. It's one night when the citizenry regulates itself without thought of punishment. On this night plagued by violence and an epidemic of crime, one family wrestles with the decision of who they will become when a stranger comes knocking. When an intruder breaks into James Sandin's (Ethan Hawke) gated community during the yearly lockdown, he begins a sequence of events that threatens to tear a family apart. Now, it is up to James, his wife, Mary (Lena Headey), and their kids to make it through the night without turning into the monsters from whom they hide.
Like I said, it doesn't sound great. If I find time to squeeze it into my summer movie schedule, I may see it so I can have an opinion, but… yeah… not expecting much.
Although, it is very impressive that they only spent #3 Million and have made $40 Million. Wow.
---
#2 – Fast & Furious 6
Budget: $160 Million
Totals: $19.7 Million Weekend Gross / $202.9 Million Domestic Total / $381.7 Million Foreign Total / $584.6 Million Worldwide Total
Week Number: 3
I did not like this film, but I am not at all surprised to see it's successful streak at the box office continue. Even if it completely fell of the charts by next week (which it won't), this film has been an amazing success and another one is all but guaranteed. Such is life though, that such drivel could do so well over better films.
---
#3 – Now You See me
Budget: $75 Million
Totals: $19.5 Million Weekend Gross / $61.4 Million Domestic Total / $3.2 Million Foreign Total / $64.6 Million Worldwide Total
Week Number: 2
Speaking of better films, this is one. And it's not doing great. According to Rotten Tomatoes, audiences aren't hating it, while critics take a more critical view (see what I did there?). At the same time, no one is storming the theaters to see this film, and that's not good for it with the stiff competition. I think this film will make back it's $75 Million budget by this weekend, but only just with Man of Steel coming out.
---
#4 – The Internship
Budget: $58 Million
Totals: $18.1 Million Opening Weekend Gross
Week Number: 1
Glad to see a week opening for this film given that I didn't think too highly of it based on the trailers and other things I've seen around. I feel affirmed.
---
#5 - Epic
Budget: $100 Million
Totals: $12.1 Million Weekend Gross / $84.1 Million Domestic Total / $105.4 Million Foreign Total / $189.5 Million Worldwide Total
Week Number: 3
We might of hoped for a bit more for such a delightful film, but you certainly can't say it's doing poorly overall. They've made quite a bit of money over the budget. Still, seems slightly week for its 3rd weekend outing.
---
#6 - Star Trek Into Darkness
Budget: $190 Million
Totals: $11.7 Million Weekend Gross / $200.1 Million Domestic Total / $176.4 Million Foreign Total / $376.5 Million Worldwide Total
Week Number: 3
Well drat, this film is fading fast. And so far it has not quite made it to the level of the previous Star Trek film from 2009. It doesn't have too far to go to get there overall, though the gap on the domestic side is a bit large. but whether it will get there or not is in question given Man of Steel's debut this weekend and other competition. It's surprising given how much hype and marketing was behind this film. It is doing somewhat better in foreign markets, but that it's fairing more poorly here in the U.S. is odd to me.
---
#7 - After Earth
Budget: $130 Million
Totals: $11.2 Million Weekend Gross / $46.6 Million Domestic Total / $48.6 Million Foreign Total / $95.2 Million Worldwide Total
Week Number: 2
I think we're calling this one a flop, which is too bad since it is a far better film than critics are saying. It has it's flaws, which I'll talk about on this weeks episode of The MovieByte Podcast, but it's not terrible, and certainly better than Fast and Furious 6. Ahh well, folks just seem to have it in for this film.
---
#8 - The Hangover Part III
Budget: $103 Million
Totals: $7.4 Million Weekend Gross / $102.4 Million Domestic Total / $170.5 Million Foreign Total / $272.9 Million Worldwide Total
Week Number: 3
Why on earth is this trash on my charts and why on earth is it making so much money. I don't want to live on this planet anymore.
---
Other things to note
Iron Man 3 has dropped to #9 after making an amount of money I will likely never be able to fathom. The Great Gatsby follows. And one of my favorite so far this year, 42, is number 16 with totals down in the hundreds of thousands for the weekend instead of the millions. So it's pretty much done. And so it goes.