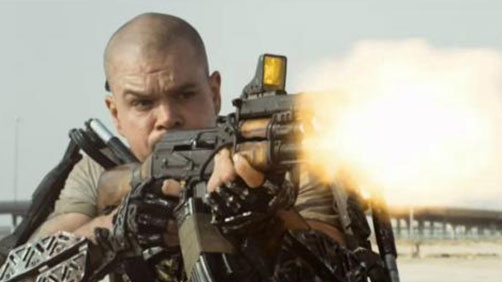 When the first trailer came out, I wrote about how I wasn't sure I was going to like the message of the film. I worried about the idea of taking form the "haves" to give to the "have nots". And I still think that potential is there for this film. A lot of people get confused about the concept of people who have, versus people who actually oppress. But I think this trailer makes it a little more clear that what is going on here in this film may be actual oppression, and that message is one I can get behind.
In any event, the film looks like it has the potential to be really good, I love what I'm seeing in this trailer. It appears to set up much more of the first act of the film, showing an accident that leaves Matt Damon's character in critical condition and about to die. The trailer also shows more of Jodie Foster but we don't know who or what she is exactly yet.
Elysium opens on August 9.
In the year 2159, two classes of people exist: the very wealthy, who live on a pristine man-made space station called Elysium, and the rest, who live on an overpopulated, ruined Earth. The people of Earth are desperate to escape the planet's crime and poverty, and they critically need the state-of-the-art medical care available on Elysium – but some in Elysium will stop at nothing to enforce anti-immigration laws and preserve their citizens' luxurious lifestyle. The only man with the chance bring equality to these worlds is Max, an ordinary guy in desperate need to get to Elysium. With his life hanging in the balance, he reluctantly takes on a dangerous mission – one that pits him against Elysium's Secretary Delacourt and her hard-line forces – but if he succeeds, he could save not only his own life, but millions of people on Earth as well.