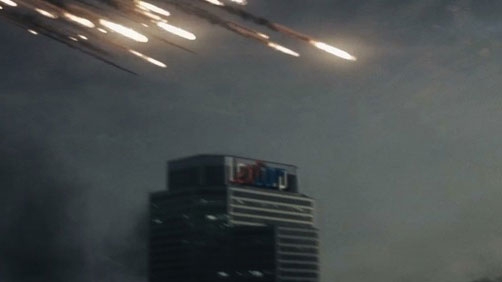 Kevin Jagernauth - The Playlist
MINOR(ish) SPOILERS FOR MAN OF STEEL FOLLOW.
"The Wayne Enterprises logo is on a satellite that Zod destroys," Zack Snyder told Omelete (via Collider). Oh damn. Of course, the inevitable next question that followed was whether or not Batman and Superman were going to team up in any future movies, and as always, Snyder remained tight-lipped.

"I don't know. Everything is interesting at this point. And don't forget that Lex is out there, doing who knows what…," he said, which at very least suggests that should "Man Of Steel Rises" or whatever happens, you can probably bet good money Lex Luthor will be a major player.
We already knew that the LexCorp logo was on a building from the trailers so it was a pretty good guess Lex Luther would at least get a cameo or some foreshadowing for the next film. The Wayne Enterprises logo is very interesting though, but frankly doesn't tell us anything we didn't already know — that they want the option of tying the two universes together at the very least. Whether or not Justice League happens they would be very foolish not to keep their options open.