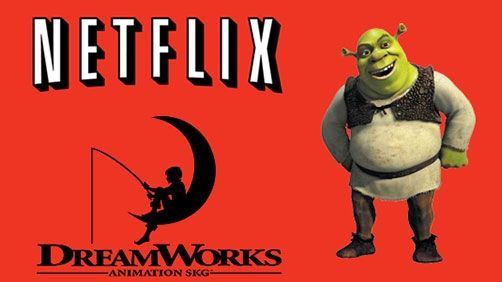 George Szalai - The Hollywood Reporter
Netflix and DreamWorks Animation on Monday unveiled a multiyear deal that will make the online streaming giant the premier home of new original TV series based on the studio's characters and franchises.

The agreement is Netflix's largest deal ever for original first-run content, they said. It allows DreamWorks Animation to launch original shows based on its characters and franchises into the TV market as a branded collection of shows.
...
DWA franchises currently include the likes of Shrek, Madagascar,Kung Fu Panda and How to Train Your Dragon. Classic Media characters include Lassie, Casper the Friendly Ghost, Frosty the Snowman, George of the Jungle, Rocky & Bullwinkle and VeggieTales.

The first DWA series for Netflix is expected to begin airing sometime in 2014. No further timing details were announced. Netflix will premiere the shows in all of its territories.
So that's interesting. I don't know that I saw this coming exactly. It's good to see the digital revolution getting a bit more of a foothold though, for sure. I welcome it and hope this is just the first of many. I'll be hanging on to my Netflix subscription as long as they keep showing promise like this.