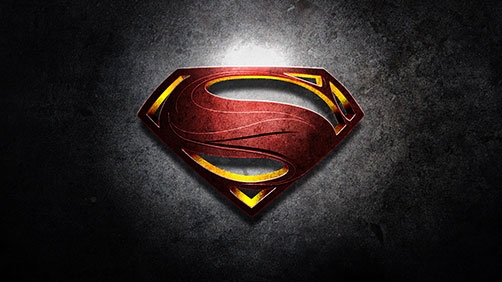 Hmm, let's see, I wonder if there's anything to see this weekend… I don't know if…
zOMW MAN OF STEEL!!!!1!!!11! Yeah, I might be a little excited about that one.
New in Theaters
Man of Steel — PG-13
I have slowly come around to wanting to see this film very badly. I believe this film is going to be one of the better films of the summer. Whether it will be the best or not remains to be seen. My initial hesitance was only due to the fact that I loved Superman Returns so much. To date it is my favorite Superman film (though Superman the Movie will always have a special place in my heart). But given that most people seemed to hate Superman Returns, what was to be done but a clean reboot? So I've come around, and I'm really liking what I'm seeing in the trailers and whatnot. So yeah, I'm looking forward to seeing it tomorrow night.
From Warner Bros. Pictures and Legendary Pictures comes "Man of Steel," starring Henry Cavill in the role of Clark Kent/Superman, under the direction of Zack Snyder ("300,""Watchmen"). The film also stars three-time Oscar® nominee Amy Adams as Daily Planet journalist Lois Lane, and Oscar® nominee Laurence Fishburne as her editor-in-chief, Perry White. Starring as Clark Kent's adoptive parents, Martha and Jonathan Kent, are Oscar® nominee Diane Lane and Academy Award® winner Kevin Costner. Squaring off against the superhero are two other surviving Kryptonians, the villainous General Zod, played by Oscar® nominee Michael Shannon, and Faora, Zod's evil partner, played by Antje Traue. Also from Superman's native Krypton are Lara Lor-Van, Superman's mother, played by Ayelet Zurer, and Superman's father, Jor-El, portrayed by Academy Award® winner Russell Crowe.
2 hr 23 min
PG-13 | Intense sequences of sci-fi violence, action and destruction, and for some language
Cast: Henry Cavill, Amy Adams, Michael Shannon, Diane Lane, Russell Crowe
Director: Zack Snyder
Genres: Action/Adventure, Drama, Sci-Fi/Fantasy
See or not: SEE!
2 Clips and a 30 Second Spot for 'Man of Steel' »
Big 'Man of Steel' Trailer »
2 Clips from 'Man of Steel' »
'Man of Steel' 13 Minute Featurette »
More 'Man of Steel' In New TV Spot »
'Man of Steel' - New Featurette, New Glimpses of the Film »
'Man of Steel' Trailer 4 »
---
This Is the End — R
This is the end alright, the end of good cinema and good filmmaking. I have no plans or desire to see this film and I recommend you steer clear.
The comedy This Is The End follows six friends trapped in a house after a series of strange and catastrophic events devastate Los Angeles. As the world unravels outside, dwindling supplies and cabin fever threaten to tear apart the friendships inside. Eventually, they are forced to leave the house, facing their fate and the true meaning of friendship and redemption.
1 hr 47 min
R | Crude and Sexual Content, Brief Graphic Nudity, Drug Use, Pervasive Language and Some Violence
Cast: James Franco, Jonah Hill, Seth Rogen, Jay Baruchel, Danny McBride, Craig Robinson, Michael Cera, Emma Watson
Director: Seth Rogen, Evan Goldberg
Genres: Comedy, Horror
See or not: Not
---
Still In Theaters
Fast and Furious 6 — PG-13
Alright guys, you were complaining about my complaining when I had not even seen the film. So I saw it and as you would expect, some things about the film were better then I expected, and some were worse. My overall opinion remains unchanged, it's not a good film. It's way too ludicrous and ridiculous in concept. This film franchise seems to exist almost entirely for the over-the-top action sequences, wrecking hundreds of thousands of dollars worth of cars, defying the laws of physics and gravity etc. There was no explanation or reason for why the bad guy was doing bad things.
The only thing I was surprised by was there was a tiny bit more plot and character development — no that's too strong, I should say character moments — for the good guys… well, for a couple of the good guys.
Check your brains at the door though because logic and good story telling need not apply here.
I talked about this for a very brief amount of time on The MovieByte Podcast #47 if you want to have a listen to that.
Since Dom (Vin Diesel) and Brian's (Paul Walker) heist in Rio left them and their crew very rich people, they've scattered across the globe; however, they must still live as fugitives, unable to return home to their families. Meanwhile, Agent Hobbs (Dwayne Johnson) has been tracking a gang of lethally skilled mercenary drivers whose second-in-command is someone Dom knows. Unable to take them down himself, Hobbs asks Dom and his crew for help in exchange for full pardons for everyone.
2 hr 10 min
PG-13 | Intense Sequences of Violence, Intense Sequences of Action, Language, Mayhem Throughout and Some Sexuality
Cast: Vin Diesel, Paul Walker, Dwayne Johnson, Jordana Brewster, Michelle Rodriguez
Director: Justin Lin
Genres: Action/Adventure
See or not: Not
The MovieByte Podcast #47: The Ursa »
Apple Trailers Page »
---
Now You See Me - PG-13
I found the film to be somewhat enjoyable, though the nonsensical ending ruined it for me. I'll say the acting, the design, the craft of the filmmaking, all that was great stuff. In addition to the actors playing The Four Horsemen (Woody Harrelson, Isla Fisher, Dave Franco, and Jesse Eisenberg), I really enjoyed Mark Ruffalo and Mélanie Laurent in their roles. They did an incredible job. But, as I said, this film has some problems, at least for me.
We discussed this film on The MovieByte Podcast #47 so you'll want to be sure to give that a listen.
Chad Hopkins also reviewed the film for us, you can check out his review here.
NOW YOU SEE ME pits an elite FBI squad in a game of cat and mouse against "The Four Horsemen", a super-team of the world's greatest illusionists. "The Four Horsemen" pull off a series of daring heists against corrupt business leaders during their performances, showering the stolen profits on their audiences while staying one step ahead of the law.
1 hr 56 min
PG-13 | Language, some action and sexual content
Cast: Jesse Eisenberg, Mark Ruffalo, Woody Harrelson, Isla Fisher, Dave Franco, Mélanie Laurent, Morgan Freeman, Michael Caine
Director: Louis Leterrier
Genres: Suspense/Thriller
See or not: SEE - it's worth seeing, even if I was a bit disappointed.
The MovieByte Podcast #47: The Ursa »
Now You See Me - Review »
'Now You See Me' Trailer »
'Now You See Me' Trailer 2 »
Let's Rob a Bank In a Clip from 'Now You See Me' »
---
The Internship - PG-13
This film looks dreadful to me. I've seen the trailers and I just can't get into it. Something feels a little off about it and I can't put my finger on it completely. One thing though, is that it feels like one big product placement film for Google. No thanks!
After old-school salesmen Billy (Vince Vaughn) and Nick (Owen Wilson) find themselves downsized, Billy decides that, despite their complete lack of technological savvy, they should work for Google. The friends somehow manage to finagle internships at the Internet giant and promptly head out to Silicon Valley. Viewed with disdain by most of their fellow interns, Billy and Nick join forces with the rest of the misfit "Nooglers" to make it through a series of competitive team challenges.
1 hr 59 min
PG-13 | Partying, Language, Sexuality and Some Crude Humor
Cast: Vince Vaughn, Owen Wilson, Josh Gad, JoAnna Garcia, Aasif Mandvi, Jessica Szohr
Director: Shawn Levy
Genres: Comedy
See or not: I'm going with Not.
---
Epic - PG
I was really wrong about this film. I thought it was not going to be that great but I did actually enjoy it a lot and I highly recommend it. I wrote a review that you may want to check out, and we talked about it on The MovieByte Podcast. It was an Epic Review (you may all groan).
EPIC tells the story of an ongoing battle deep in the forest between the forces of good and the forces of evil. When a teen age girl finds herself magically transported into this secret universe, she must band together with a rag-tag team of fun and whimsical characters in order to save their world…and ours.
1 hr 43 min
PG | for mild action, some scary images and brief rude language
Cast: Beyoncé Knowles, Colin Farrell, Josh Hutcherson, Amanda Seyfried, Christoph Waltz
Director: Chris Wedge
Genres: Animated, Family
See or not: SEE!
Epic - Review »
The MovieByte Podcast #46: The Smug Look On His Face »
Apple Trailers Page »
---
Star Trek Into Darkness - PG-13
I greatly enjoyed this film and liked it a lot better than J.J.'s first installment in the reboot of this franchise. I gave my preliminary report of the film over here, and we talked about it on The MovieByte Podcast with Anthony Pascale of TrekMovie.com. Even Joe, who is not a Trekkie enjoyed the film and we had good fun discussing it, even nitpicking it. I also wrote a review you may want to check out.
One caveat though, I would recommend seeing the film in standard 2D. the 3D does nothing for the film.
The crew of the Starship Enterprise returns home after an act of terrorism within its own organization destroys most of Starfleet and what it represents, leaving Earth in a state of crisis. With a personal score to settle, Capt. James T. Kirk (Chris Pine) leads his people (Zachary Quinto, Karl Urban, Zoë Saldana) on a mission to capture a one-man weapon of mass destruction, thereby propelling all of them into an epic game of life and death.
2 hr 12 min
PG-13 | Intense sequences of sci-fi action and violence.
Cast: Chris Pine, Zachary Quinto, Karl Urban
Director: J.J. Abrams
Genres: Action/Adventure, Sci-Fi/Fantasy
See or not: SEE SEE SEE!
The MovieByte Podcast #45: My Name Is… »
Star Trek Into Darkness - Review »
Preliminary 'Star Trek Into Darkness' Report »
Recommended Review of 'Star Trek Into Darkness' »
3 More 'Star Trek Into Darkness' TV Spots »
"Somewhat Irascible and Cantankerous" - 'Star Trek Into Darkness' »
'Star Trek Into Darkness' TV Spots with New Release Date »
More 'Star Trek Into Darkness' Goodies »
Keep Going, Scotty! - 'Star Trek Into Darkness' Clip 4 »
'Star Trek Into Darkness' Clip - "I Allow It" - Plus Thoughts and Opinions »
The MovieByte Podcast #40: Decking Wesley »
'Star Trek Into Darkness' Final Trailer »
---
After Earth - PG-13
This film is not anywhere near as bad as what critics are saying. Or general audiences for that matter. I enjoyed it fairly well. I think I'm giving it 3 of 5 stars. Some have complained about the Scientology present in the film, but I thought it was quite simply a decent story.
We talked about this film on The MovieByte Podcast #47 and you'll want to join in the fun of that one!
People were forced to leave Earth a millennium ago to establish a new home on Nova Prime. Now, Gen. Cypher Raige (Will Smith) heads Nova Prime's most-prominent family. Cypher's teenage son, Kitai (Jaden Smith), feels enormous pressure to follow in his father's legendary footsteps – which strains their relationship. Cypher and Kitai set out on a trip to mend their bond, but when their craft crashes on Earth's hostile surface, each must trust the other greatly – or perish.
1 hr 39 min
PG-13 | Sci-fi action violence and some disturbing images
Cast: Will Smith, Jaden Smith, Zoe Kravitz, Sophie Okonedo, Lincoln Lewis
Director: M. Night Shyamalan
Genres: Action/Adventure
See or not: See
The MovieByte Podcast #47: The Ursa »
'After Earth' Trailer »
'After Earth' Trailer 2 »
'After Earth' Clip - 'Beacon' with Will Smith and Jaden Smith »
---
That humans made this makes me weep for the human race. I WILL NOT be seeing this one.
It's been two years since the gang known as the Wolfpack narrowly escaped disaster in Bangkok. Now, Phil (Bradley Cooper), Stu (Ed Helms) and Doug (Justin Bartha) have happy lives at home – but Alan (Zach Galifianakis) doesn't. Still lacking contentment and a sense of purpose, Alan has gone off his meds and surrendered to his natural impulses. It's up to the other members of the Wolfpack to get him through his personal crisis by embarking on a road trip to the place it all began: Las Vegas.
1 hr 40 min
R | Drug Content, Brief Graphic Nudity, Pervasive Language, Sexual References and Some Violence
Cast: Bradley Cooper, Ed Helms, Zach Galifianakis, Justin Bartha, Ken Jeong, John Goodman
Director: Todd Phillips
Genres: Comedy
See or not: I'm fairly confident in saying NOT!
---
Iron Man 3 - PG-13
This is a pretty great installment in the Marvel Universe. And I loved that it wasn't just about the suits and another guy with suits more powerful than Iron Man's suit, etc. etc. This movie had heart, and it was a story about the characters, not the metal that the characters wear. And there were some surprises to the plot that were unexpected, unlike Iron Man 2, which felt a little bit like a paint by numbers job. Definitely worth seeing this one! We talked about this film on Episode 43 of The MovieByte Podcast, and we warned about spoilers when we got to them, so check that out.
Marvel's "Iron Man 3" pits brash-but-brilliant industrialist Tony Stark/Iron Man against an enemy whose reach knows no bounds. When Stark finds his personal world destroyed at his enemy's hands, he embarks on a harrowing quest to find those responsible. This journey, at every turn, will test his mettle. With his back against the wall, Stark is left to survive by his own devices, relying on his ingenuity and instincts to protect those closest to him. As he fights his way back, Stark discovers the answer to the question that has secretly haunted him: does the man make the suit or does the suit make the man?
2 hr 20 min
PG-13 | Sequences of intense sci-fi action and violence throughout, and brief suggestive content
Cast: Robert Downey, Jr., Gwyneth Paltrow, Don Cheadle, Guy Pearce, Rebecca Hall
Director: Shane Black
Genres: Action/Adventure
See or not: See
The MovieByte Podcast #43: She Was Totally Gangsta »
Iron Man 3 - Where's my Super Suit? - Review »
Trailer for the Upcoming 'Iron Man 3' Trailer »
'Iron Man 3' Official Trailer is Here! »
'Iron Man 3' "Extended" Look »
Newest Trailer for 'Iron Man 3' »
'Iron Man 3' TV Spot »
'Iron Man 3' Clip - Tony Is Not Afraid »
'Iron Man 3' Featurette and TV Spots »
Tony Stark's House Blowing Up Around Him »
Tony Stark Has Heart to Heart with Pepper »
Two More 'Iron Man 3' TV Spots »
---
The Great Gatsby - PG13
I really didn't enjoy the 1974 version with Robert Redford very much at all, from a lack of good story telling, inept editing, poor morals, upholding bad people as heroes and more, that film was simply bad. On the one hand I'm happy to say that Baz Luhrmann's The Great Gatsby does not suffer from nearly as many problems as that previous film based on the same source material. In fact much of the story telling, style, editing and much more is top shelf. I immensely enjoyed the film on that level. And in fact while the previous version in 1974 suffered from very poor casting choices, this film was so perfectly cast that it's hard to imagine anyone else in these roles. Leonardo DiCaprio plays Gatsby so much better than Redford it's not even funny, and Carrie Mulligan's Daisy Buchanan is far better. And while many will have a problem with Tobey Maquire because people just seem to have a problem with him, I thought he was perfect.
With all that though, I still find the story, and what it implicitly upholds troubling. If it would have cast a bit more judgement on the morality of what Gatsby was doing, I would have been far happier with this film. I am not arguing for a preachy film, but as the film currently stands, Gatsby seems like a hero, and he certainly is not — trying to take another man's wife is not a hero, I don't care what kind of relationship he had with her before she was married or how much she hurt him. So with that in mind I've only given the film 3 stars out of 5 despite how well it was made and despite what could have been a great film but for the ending narration of our protagonist.
Be sure to check out my review, and The MovieByte Podcast Episode #44 for more on this film.
Nick Carraway, a Midwesterner now living on Long Island, finds himself fascinated by the mysterious past and lavish lifestyle of his neighbor, Jay Gatsby. He is drawn into Gatsby's circle, becoming a witness to obsession and tragedy.
2 hr 22 min
PG-13 | some violent images, sexual content, smoking, partying and brief language
Cast: Leonardo DiCaprio, Tobey Maguire, Carey Mulligan, Isla Fisher, Joel Edgerton
Director: Baz Luhrmann
Genres: Drama, Romance
See or not: a weak see with the appropriate caveats taken into account
The Great Gatsby Does Not Repeat the Past - Review »
The MovieByte Podcast #44: Old Sport »
Apple Trailers Page »
'The Great Gatsby' UK Trailer »
'The Great Gatsby' 30 Second Spot »