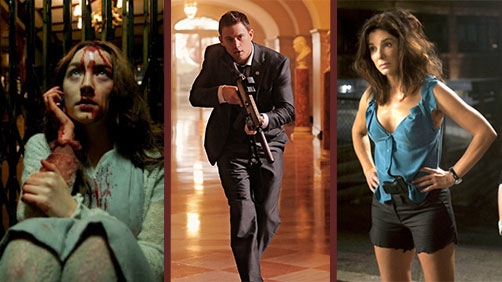 This weekend the box office will really be "heating" things up and taking the "white house down" while vampires live their secret lives. Let's take a look, shall we?
New This Weekend
The Heat - R
I'm kind of looking forward to this film but I have this nagging feeling that I'm going to be disappointed. Still, seems like there should be some good laughs in it, right? (surely there will be).
Uptight and straight-laced, FBI Special Agent Sarah Ashburn (Sandra Bullock) is a methodical investigator with a reputation for excellence—and hyper-arrogance. Shannon Mullins (Melissa McCarthy), one of Boston P.D.'s "finest," is foul-mouthed and has a very short fuse, and uses her gut instinct and street smarts to catch the most elusive criminals. Neither has ever had a partner, or a friend for that matter. When these two wildly incompatible law officers join forces to bring down a ruthless drug lord, they become the last thing anyone expected: buddies. From Paul Feig, the director of "Bridesmaids."
1 hr 57 min
R | Pervasive language, strong crude content and some violence
Cast: Sandra Bullock, Melissa McCarthy, Demián Bichir, Marlon Wayans, Michael Rapaport
Director: Paul Feig
Genres: Comedy
See or not: I'll let you know
"The Heat" Official Trailer »
'The Heat' Clip: Are You A Narc? »
'The Heat' - "Good Cop/Bad Cop" Clip »
---
White House Down - PG-13
This just looks like it's going to be good summer fun to me, and as long as there's a somewhat decent plot in there, I think that's alright. I'm not expecting super great things from this, maybe about 3.5 of 5 stars. I'll know after this weekend.
In Columbia Pictures' White House Down, Capitol Policeman John Cale (Channing Tatum) has just been denied his dream job with the Secret Service of protecting President James Sawyer (Jamie Foxx). Not wanting to let down his little girl with the news, he takes her on a tour of the White House, when the complex is overtaken by a heavily armed paramilitary group. Now, with the nation's government falling into chaos and time running out, it's up to Cale to save the president, his daughter, and the country.
2 hr 17 min
PG-13 | Some language, a brief sexual image, sequences of intense action violence and intense gunfire and explosions
Cast: Channing Tatum, Jamie Foxx, Maggie Gyllenhaal, Jason Clarke, Richard Jenkins
Director: Roland Emmerich
Genres: Action/Adventure
See or not: I'll let you know
'White House Down' Extended Trailer »
'White House Down' Trailer 2 »
---
Byzantium - R
In a bid to bring us Twilight meets Buffy the Vampire Slayer, this film looks like it has the weird covered. But it does have two actresses that I rather like, so I'll probably at least give the film a chance. I'm not expecting good things. And it's rated R, and it's a vampire film, make of that what you will.
As the two mysterious women seek refuge in a run-down coastal resort, Clara (Gemma Arterton) meets lonely Noel (Daniel Mays), who provides shelter in his deserted guesthouse, Byzantium. Schoolgirl Eleanor (Saoirse Ronan) befriends Frank (Caleb Landry Jones) and tells him their lethal secret. They were born 200 years ago and survive on human blood. In the small, quiet town, people start to die. And the past that the girls have been running from for so long, finally catches up with them – with astonishing consequences.
1 hr 58 min
R | language throughout, some violence, teen drug and alcohol use, and a sexual reference
Cast: Saoirse Ronan, Barry Cassin, Gemma Arterton, David Heap, Warren Brown, Ruby Snape
Director: Neil Jordan
Genres: Drama, Suspense/Thriller
See or not: I'll let you know
Two Clips from 'Byzantium' »
'Byzantium' Trailer »
---
Still In Theaters
Go see this. Duh. This should is a lot of fun, it is Pixar after all, why wouldn't it be? I'm took my two oldest with me to see it (they are 6 and 4 years old) and they loved it. Pixar films are always delightful, and even their films that I don't care so much about are way better than most other animated films on their best day.
I wrote a review for this film, and we talked about it on Episode 49 of The MovieByte Podcast.
Mike Wazowski and James P. Sullivan are an inseparable pair, but that wasn't always the case. From the moment these two mismatched monsters met they couldn't stand each other. "Monsters University" unlocks the door to how Mike and Sulley overcame their differences and became the best of friends.
1 hr 42 min
G | Frightening Scenes
Cast: Billy Crystal, John Goodman, Steve Buscemi, Helen Mirren, Peter Sohn, Joel Murray
Director: Dan Scanlon
Genres: Animated, Family
See or not: See
Monsters University - Review »
The MovieByte Podcast #49: Where Is The Incredibles Sequel? »
New Trailer and Clip for 'Monsters University' »
'Monsters University' Trailer 3 »
'Monsters University' Promos »
More 'Monsters University' Viral Marketing »
'Monsters University' - A Message from the Dean »
'Monsters University' Clip »
'Monsters University' Full Length Trailer »
'Monsters University' Featurette »
'Monsters University' Ad »
---
World War Z - PG-13
This film is not earth shattering and I have some issues with it, but it was still an enjoyable film and well done in many ways. I would give it 3.5 of 5 stars and it's certainly a viable contender for your time this weekend. Corey wrote a review of the film and he feels much more strongly in favor of it than I do.
A U.N. employee is racing against time and fate, as he travels the world trying to stop the outbreak of a deadly Zombie pandemic.
1 hr 55 min
PG-13 | Intense frightening zombie sequences, violence and disturbing images.
Cast: Brad Pitt, Mireille Enos, Daniella Kertesz, James Badge Dale, Ludi Boeken, Matthew Fox
Director: Marc Forster
Genres: Action/Adventure, Drama, Horror
See or not: See
World War Z - Review »
'World War Z' Clip - Hammer and Nails »
'World War Z' Clip - Bad News About the Zombie Apocalypse »
'World War Z' "Shows Signs of Life" »
'World War Z' TV Spot (and trailer) »
---
Man of Steel — PG-13
I hated this film so much — SO MUCH. I had reconciled myself the reboot and even got to the point where I was looking forward to the film immensely, and I was blow away by how bad it was. If you want to look up the definition of bad filmmaking somewhere, I'm pretty sure Man of Steel would be listed somewhere in the prime examples of such. This film has no heart, it is disjoined and non-linear in a way that does not work, it left me feeling emotionally disconnected from the story and the characters and it left way too many things of the plot to chance instead of being intentional. That's not to say there weren't some things to like, but the bad far outweighed the good. I can't recommend this film.
I wrote a review and we talked about it on episode 48 of The MovieByte Podcast.
From Warner Bros. Pictures and Legendary Pictures comes "Man of Steel," starring Henry Cavill in the role of Clark Kent/Superman, under the direction of Zack Snyder ("300,""Watchmen"). The film also stars three-time Oscar® nominee Amy Adams as Daily Planet journalist Lois Lane, and Oscar® nominee Laurence Fishburne as her editor-in-chief, Perry White. Starring as Clark Kent's adoptive parents, Martha and Jonathan Kent, are Oscar® nominee Diane Lane and Academy Award® winner Kevin Costner. Squaring off against the superhero are two other surviving Kryptonians, the villainous General Zod, played by Oscar® nominee Michael Shannon, and Faora, Zod's evil partner, played by Antje Traue. Also from Superman's native Krypton are Lara Lor-Van, Superman's mother, played by Ayelet Zurer, and Superman's father, Jor-El, portrayed by Academy Award® winner Russell Crowe.
2 hr 23 min
PG-13 | Intense sequences of sci-fi violence, action and destruction, and for some language
Cast: Henry Cavill, Amy Adams, Michael Shannon, Diane Lane, Russell Crowe
Director: Zack Snyder
Genres: Action/Adventure, Drama, Sci-Fi/Fantasy
See or not: Not!
The MovieByte Podcast #48: I Will Say This Backwards »
Man of Steel - Review »
2 Clips and a 30 Second Spot for 'Man of Steel' »
Big 'Man of Steel' Trailer »
2 Clips from 'Man of Steel' »
'Man of Steel' 13 Minute Featurette »
More 'Man of Steel' In New TV Spot »
'Man of Steel' - New Featurette, New Glimpses of the Film »
'Man of Steel' Trailer 4 »
---
This Is the End — R
This is the end alright, the end of good cinema and good filmmaking. I have no plans or desire to see this film and I recommend you steer clear.
The comedy This Is The End follows six friends trapped in a house after a series of strange and catastrophic events devastate Los Angeles. As the world unravels outside, dwindling supplies and cabin fever threaten to tear apart the friendships inside. Eventually, they are forced to leave the house, facing their fate and the true meaning of friendship and redemption.
1 hr 47 min
R | Crude and Sexual Content, Brief Graphic Nudity, Drug Use, Pervasive Language and Some Violence
Cast: James Franco, Jonah Hill, Seth Rogen, Jay Baruchel, Danny McBride, Craig Robinson, Michael Cera, Emma Watson
Director: Seth Rogen, Evan Goldberg
Genres: Comedy, Horror
See or not: Not
---
Now You See Me - PG-13
I found the film to be somewhat enjoyable, though the nonsensical ending ruined it for me. I'll say the acting, the design, the craft of the filmmaking, all that was great stuff. In addition to the actors playing The Four Horsemen (Woody Harrelson, Isla Fisher, Dave Franco, and Jesse Eisenberg), I really enjoyed Mark Ruffalo and Mélanie Laurent in their roles. They did an incredible job. But, as I said, this film has some problems, at least for me.
We discussed this film on The MovieByte Podcast #47 so you'll want to be sure to give that a listen.
Chad Hopkins also reviewed the film for us, you can check out his review here.
NOW YOU SEE ME pits an elite FBI squad in a game of cat and mouse against "The Four Horsemen", a super-team of the world's greatest illusionists. "The Four Horsemen" pull off a series of daring heists against corrupt business leaders during their performances, showering the stolen profits on their audiences while staying one step ahead of the law.
1 hr 56 min
PG-13 | Language, some action and sexual content
Cast: Jesse Eisenberg, Mark Ruffalo, Woody Harrelson, Isla Fisher, Dave Franco, Mélanie Laurent, Morgan Freeman, Michael Caine
Director: Louis Leterrier
Genres: Suspense/Thriller
See or not: SEE - it's worth seeing, even if I was a bit disappointed.
The MovieByte Podcast #47: The Ursa »
Now You See Me - Review »
'Now You See Me' Trailer »
'Now You See Me' Trailer 2 »
Let's Rob a Bank In a Clip from 'Now You See Me' »
---
Fast and Furious 6 — PG-13
Alright guys, you were complaining about my complaining when I had not even seen the film. So I saw it and as you would expect, some things about the film were better then I expected, and some were worse. My overall opinion remains unchanged, it's not a good film. It's way too ludicrous and ridiculous in concept. This film franchise seems to exist almost entirely for the over-the-top action sequences, wrecking hundreds of thousands of dollars worth of cars, defying the laws of physics and gravity etc. There was no explanation or reason for why the bad guy was doing bad things.
The only thing I was surprised by was there was a tiny bit more plot and character development — no that's too strong, I should say character moments — for the good guys… well, for a couple of the good guys.
Check your brains at the door though because logic and good story telling need not apply here.
I talked about this for a very brief amount of time on The MovieByte Podcast #47 if you want to have a listen to that.
Since Dom (Vin Diesel) and Brian's (Paul Walker) heist in Rio left them and their crew very rich people, they've scattered across the globe; however, they must still live as fugitives, unable to return home to their families. Meanwhile, Agent Hobbs (Dwayne Johnson) has been tracking a gang of lethally skilled mercenary drivers whose second-in-command is someone Dom knows. Unable to take them down himself, Hobbs asks Dom and his crew for help in exchange for full pardons for everyone.
2 hr 10 min
PG-13 | Intense Sequences of Violence, Intense Sequences of Action, Language, Mayhem Throughout and Some Sexuality
Cast: Vin Diesel, Paul Walker, Dwayne Johnson, Jordana Brewster, Michelle Rodriguez
Director: Justin Lin
Genres: Action/Adventure
See or not: Not
The MovieByte Podcast #47: The Ursa »
Apple Trailers Page »
---
The Internship - PG-13
This film looks dreadful to me. I've seen the trailers and I just can't get into it. Something feels a little off about it and I can't put my finger on it completely. One thing though, is that it feels like one big product placement film for Google. No thanks!
After old-school salesmen Billy (Vince Vaughn) and Nick (Owen Wilson) find themselves downsized, Billy decides that, despite their complete lack of technological savvy, they should work for Google. The friends somehow manage to finagle internships at the Internet giant and promptly head out to Silicon Valley. Viewed with disdain by most of their fellow interns, Billy and Nick join forces with the rest of the misfit "Nooglers" to make it through a series of competitive team challenges.
1 hr 59 min
PG-13 | Partying, Language, Sexuality and Some Crude Humor
Cast: Vince Vaughn, Owen Wilson, Josh Gad, JoAnna Garcia, Aasif Mandvi, Jessica Szohr
Director: Shawn Levy
Genres: Comedy
See or not: I'm going with Not.
---
Star Trek Into Darkness - PG-13
I greatly enjoyed this film and liked it a lot better than J.J.'s first installment in the reboot of this franchise. I gave my preliminary report of the film over here, and we talked about it on The MovieByte Podcast with Anthony Pascale of TrekMovie.com. Even Joe, who is not a Trekkie enjoyed the film and we had good fun discussing it, even nitpicking it. I also wrote a review you may want to check out.
One caveat though, I would recommend seeing the film in standard 2D. the 3D does nothing for the film.
The crew of the Starship Enterprise returns home after an act of terrorism within its own organization destroys most of Starfleet and what it represents, leaving Earth in a state of crisis. With a personal score to settle, Capt. James T. Kirk (Chris Pine) leads his people (Zachary Quinto, Karl Urban, Zoë Saldana) on a mission to capture a one-man weapon of mass destruction, thereby propelling all of them into an epic game of life and death.
2 hr 12 min
PG-13 | Intense sequences of sci-fi action and violence.
Cast: Chris Pine, Zachary Quinto, Karl Urban
Director: J.J. Abrams
Genres: Action/Adventure, Sci-Fi/Fantasy
See or not: SEE SEE SEE!
The MovieByte Podcast #45: My Name Is… »
Star Trek Into Darkness - Review »
Preliminary 'Star Trek Into Darkness' Report »
Recommended Review of 'Star Trek Into Darkness' »
3 More 'Star Trek Into Darkness' TV Spots »
"Somewhat Irascible and Cantankerous" - 'Star Trek Into Darkness' »
'Star Trek Into Darkness' TV Spots with New Release Date »
More 'Star Trek Into Darkness' Goodies »
Keep Going, Scotty! - 'Star Trek Into Darkness' Clip 4 »
'Star Trek Into Darkness' Clip - "I Allow It" - Plus Thoughts and Opinions »
The MovieByte Podcast #40: Decking Wesley »
'Star Trek Into Darkness' Final Trailer »