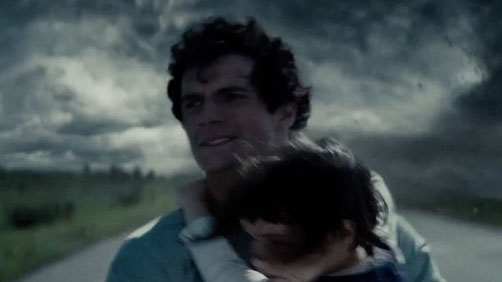 Entertainment Weekly
A top-of-the-scale EF5 tornado hit the Oklahoma City suburb of Moore on May 20, killing 24 people. Another round of violent storms that produced a separate EF5 tornado struck last Friday, leaving nearly two dozen people dead.
...
Man of Steel director Zack Snyder said there was never any discussion about altering the pivotal scene involving a twister following recent deadly storms in Oklahoma.

"He's changed by those events," said Snyder during an interview to promote the movie. "If anything, we feel like our Superman has a connection — not to make light of it — to the kind of grief that happens during those kinds of natural disasters. Also, in a sad way, even Superman can't change that."
I can't imagine by what logic it makes things better if a tornado is removed from a film because a tornado recently struck and killed people. It's a terrible tragedy, yes, but we do films about tragedy all the time. And as Snyder said, it's not about making light of it.
So I'm in favor of the decision.