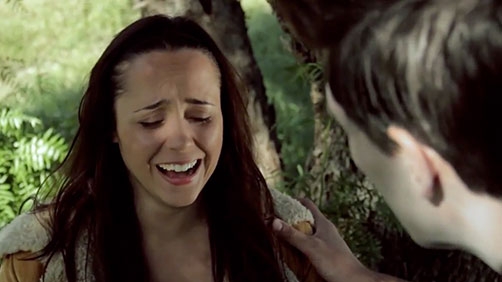 Hillary Busis - Entertainment Weekly
Behind the Lines Productions, the company behind a Twilight parody called Twiharder, has filed a $500 million suit against the makers of the Twilight films. In a 219-page complaint obtained by EW, the parodists write that they were planning to release their film last fall — around the same time that The Twilight Saga: Breaking Dawn — Part 2 hit theaters.

But after Summit and Lionsgate sent out a cease-and-desist letter, the plaintiffs claim, potential distributors grew skittish about risking the larger studios' ire — even though Behind the Lines says its parody falls under the terms of the "fair use" doctrine, which protects "independent filmmakers, parodists and other 'counter-cultural' artists who create separate or derivative works that may be related to, inspired by or comment upon the pop culture events that dominate the national Cineplex and, by extension the attitudes, perspectives and behaviors of the populace."
Okay, I have a couple of thoughts about this, and they are conflicted.
First, copyrights are still causing major issues and much more harm than good. It's high time to abolish that garbage, but it will never happen because the high ups in the entertainment industry have their meet hooks sunk in too far with our lawmakers, and have far too much effect by use of lobbyists and such. But there is no doubt in my mind that we just need to get rid of copyright laws. Yeah, I know this sounds insane and I'm completely bonkers and everything, but I think you should really and seriously consider what I am saying. Also, listen to episodes 67 and 68 of Hypercritical for a better idea of where I am coming from.
Secondly, don't the people behind this films have better things to do? Goodness, get a life!