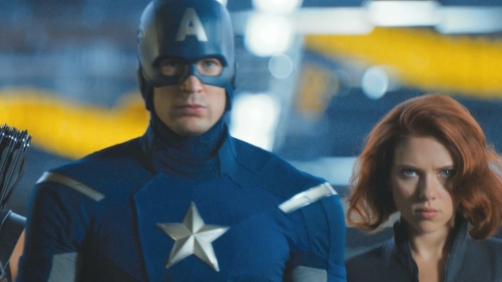 SuperHeroHype
This summer at the San Diego Comic-Con Scarlett, Johansson (a.k.a. Black Widow, a.k.a. the sexiest Avenger) said that she and Captain America (Chris Evans) will form "something of an intimate friendship" in next year's sequel Captain America: The Winter Soldier.

After revealing spy photos showed the two characters lip locking on set, we went back and reviewed 2012's The Avengers to find any hints of this burgeoning relationship between two war vets. Turns out the characters do shoot a couple of admiring glances at each other, Black Widow during his first tour of S.H.I.E.L.D.'s Helicarrier and him right after boosting her onto a Chitauri vehicle in mid-battle.
Hmm. I don't think I like this idea.