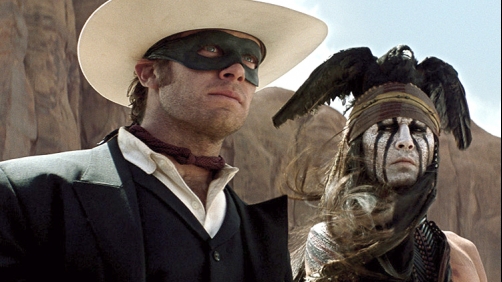 Brent Lang - TheWrap.com
Jay Rasulo said keeping costs lower will help with risk management

Walt Disney will be more judicious when it comes to greenlighting the next big-budget film that doesn't feature a member of the Marvel Comics or Star Wars universe.

Chief Financial Officer Jay Rasulo said the studio had learned a valuable lesson from the failure of "The Lone Ranger." The Johnny Depp Western cost a reported $215 million to produce and tens of millions more to market, but only netted $243 million worldwide.

"There needs to be a cap on tentpole, non-franchise movies," Rasulo said at the Bank of America Merrill Lynch Media, Communications and Entertainment Conference Thursday in Los Angeles.
*Facepalm*
Wrong conclusion. While I don't quite get the flop of The Lone Ranger it is clear to me that the answer is not to make more and more franchise and derivative films. If anything, I would have thought that The Lone Ranger showed just the opposite. While I found it enjoyable enough — certainly more than critics or most audience members did — The Lone Ranger was, if anything, a very derivative work. The idea that dumping more money into franchise films and other derivative work will be the key to making a good return on investment is laughable at best.
All that said, the budget for The Lone Ranger was seriously over-inflated. The film could have/should have been made for half that price, or even less. We do have a problem with films these days of spending way too much money on them and the trend cannot continue. I want well made films as much as anyway, but I don't think we have to spend as much money on them as we are to get them well made. Indeed, some of the films I most enjoy, and that I feel are the most well made, came from shoestring budgets.
So I both agree and disagree. I agree that too much money was spent on The Lone Ranger — way too much. I disagree that the answer is to turn to more and more un-original work. I enjoy franchise films as much as anyway. But like all things in life there needs to be a good balance. We do not currently have good balance in the Hollywood world right now.