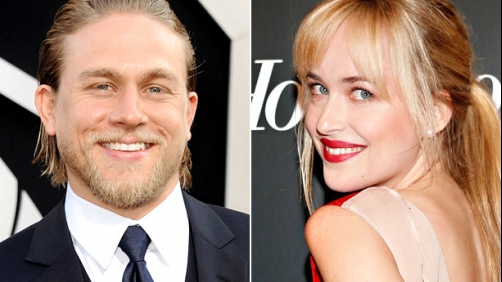 Lynette Rice - Entertainment Weekly
The search is over: Dakota Johnson (Ben and Kate, The Social Network) will play Anastasia Steele and Charlie Hunnam (Sons of Anarchy) will take over the high-profile role of Christian Grey in the film adaptation of Fifty Shades Of Grey.

Author E.L. James tweeted the news this morning. The movie will be released on Aug. 1, 2014.

No clear candidates for the high-profile roles had emerged since Focus Features and Universal paid $5 million in March 2012 for movie rights to the best-selling trilogy — but there were lots of rumors. Earlier this year, Emma Watson's name hit the mill for Anastasia, which prompted the Harry Potter star to tweet "who here actually thinks I would do 50 Shades of Grey as a movie? Like really. For real. In real life."
So, this film is apparently going to get made, and that's really sad to me. I can say without hesitation that you should stay far away from this debauched bit of filth.
I quote from the Wikipedia entry:
Fifty Shades of Grey is a 2011 erotic romance novel by British author E. L. James. It is the first installment in the Fifty Shades trilogy that traces the deepening relationship between a college graduate, Anastasia Steele, and a young business magnate, Christian Grey. It is notable for its explicitly erotic scenes featuring elements of sexual practices involving bondage/discipline, dominance/submission, and sadism/masochism (BDSM).
Yeah… that sounds great, really great…
What a load of filthiness!