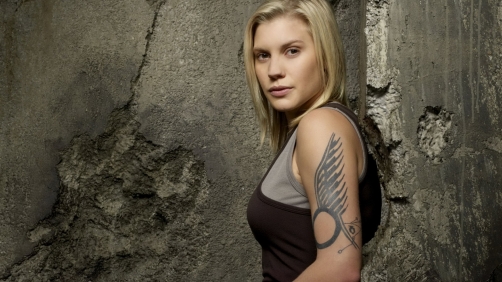 Germain Lussier - /Film
After several male dominated films in the Marvel Cinematic Universe, more attention is turning to women. Besides the inclusion of Scarlet Witch in Avengers: Age of Ultron, Marvel director/producer Louis D'Esposito was recently quoted saying the company wants to make a female lead superhero movie. He even offered up the character Captain Marvel as a possibility.

So who could play a role like that? Well someone at Marvel must really like the cast ofRiddick. Dave Bautista and Vin Diesel were both cast in Guardians of the Galaxy and now it's come out that Marvel has had discussions with Katee Sackhoff. The Riddick and Battlestar Galactica star revealed as much on a recent podcast, stating Marvel inquired about her availability during the first quarter of 2014.
Could be interesting. She sure brought Lt. Starbuck to life back in the Battlestar Galactica days. And she wasn't too bad in Riddick either.