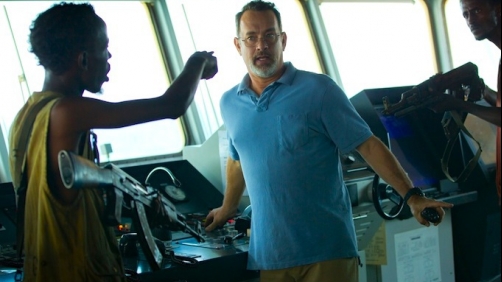 Drew Taylor - The Playlist
"It's like the last half hour of 'Zero Dark Thirty' but for the whole movie." That was someone's description of "Captain Phillips" when we quizzed them about the film earlier today. The film, which stars Tom Hanks as the titular captain of the Maersk Alabama, a ship that found itself under siege by Somali pirates back in 2009, was directed by "United 93" and "Bourne Ultimatum" filmmaker Paul Greengrass, whose last feature, the troubled Matt Damon vehicle "Green Zone," proved an underwhelming and costly flop. But by all accounts from those who have seen it, "Captain Phillips" is the director back on his game, with a tense and enthralling real-life thriller. Although how successful it ultimately is seems to be up for grabs depending on how moved you are by it and how questionable you find the film's racial politics.
Good to hear that the film seems to be pretty good. As far as the politics, unless there's something else going on here, their just telling a real story that happened so if I'm not mistaken, it's just over-sensitivity to "racial" issues. But we'll see, I could be wrong and there may well be some questionable racial politics going on in this film, but I expect to like it.