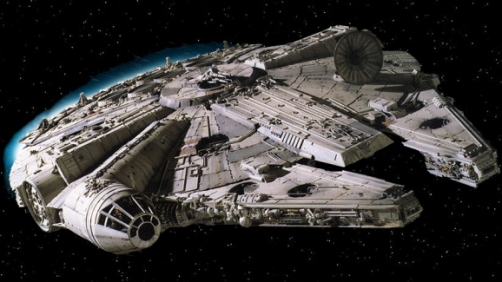 Gabriel Gray - TalkBacker
Treat this as a rumour, but as of right now I have two sources confirming this information as accurate. So with that in mind, I bring it to you.

Here is what I heard from my source:

"…title I'm hearing is A New Dawn."

So I sat on this for a few days and contacted a number of sources and awaited a response, then not long ago I received contact from another of my sources confirming it.

"there will be many potential titles by now, but yes that is a title I have heard mentioned. So do with that what you will."

The mails I received from the source who gave me this information, also elaborated on a number of key things when I pressed for more details.

"… yes the falcon will make a big appearance, 1.1 scale size cross section is being constructed over at Pinewood, along with a power plant set and the famous cantina."

So I assume Han Solo is indeed back then, and if they are building the famous cantina set from Episode 4, then that means Tatooine is a location the film will be using. So I guess another shoot in Tunisia is on the cards if that's the case, and what about that power plant set? All Star Wars movies have them, so I guess that trend continues.
Hmm, I don't know. That seems a bit too on the nose, but then, I'm talking tast not trend. Star Wars titles do tend to be "on the nose" as it were. Consider: A New Hope, The Empire Strikes Back, Return of the Jedi, Attack of the Clones, Revenge of the Sith. Those are all embarrasingly on the nose and not really clever at all. A New Dawn does not sound all that clever so this is right in line if true. Of course it will be interested to see how JJ reacts to having a colon in his title.
I can tell you that, yes, as geek/nerd/fanboy, whatever you want to call me, I will be excited to see the Falcon on the big screen again.
Let the good times roll!