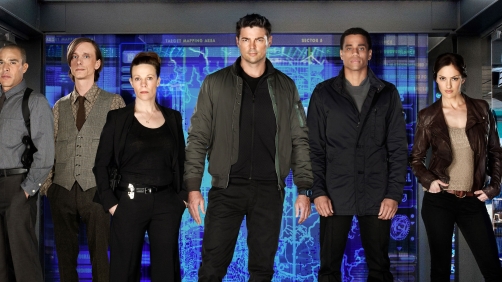 For those who, like me, won't catch the part one of the pilot until tonight via Hulu, you are probably still quite interested in this trailer. The pilot is a two parter and part one debuted last night on broadcast TV. I have neither the time nor the inclination to make sure I'm in front of my TV at any set time. Hulu (or some service like it) is the future, and that's the way I watch TV. At this time the (stupid) powers that be have decreed that Hulu must be delayed by a day. So I wait one day. I'll be catching the pilot tonight and I am really looking forward tot his one!
I can tell you this: even though I run a website called MovieByte and I'm really into movies and film, I am almost into TV shows more. The lines between Movie and TV continue to blur and we get better and better shows. The fact that we're getting what amounts to a cinematic trailer for this TV show is even more proof. The thing is, while I would never want to replace the experience of heading out to a really good theater with great surround sound and a group of excited people around you for the 2 hour film format, the TV format as it exists today is a lot of fun. Story arcs that span whole seasons and even more is what it's all about people.
So, take from you friendly neighborhood MovieByte guy: unless I'm sadly mistaken you probably won't want to miss this one.