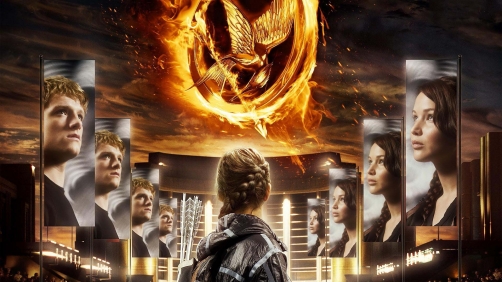 Diana Drumm - The Playlist
Exceeding already great expectations as the highly-anticipated sequel to "The Hunger Games" (which opened with $152.5 million), "The Hunger Games: Catching Fire" made a jaw-dropping, predecessor-surpassing $161.1 million (already making back its reported $130 million budget domestically) and averaged $38,704 per theater. This opening weekend marks not only the top opening for star Jennifer Lawrence (beating out her previous bests "The Hunger Games" and "X-Men: First Class" with $55.1 million) and Lionsgate (beating out "The Hunger Games" and "The Twilight Saga: Breaking Dawn Part 2" with $141.1 million), but also the top November opening (toppling "The Twilight Saga: New Moon" and its $142.8 million) and 4th largest overall opening of all time (taking the spot from "The Dark Knight Rises" and its $160.9 million). Within two installments, the dystopian young adult series (based on the Suzanne Collins' novels) has already made $569.1 million domestically, putting it on par with, and with the possibility of exceeding, megablockbusters 'Harry Potter' (total: $2.4 billion, average: $298.8 million) and 'Twilight' (total: $1.3 billion, average: $272.7 million). With Disney's "Frozen" and the "Oldboy" remake to contend with next weekend, it's safe to say that 'Catching Fire' will stay on top for a bit longer. With "The Hobbit: The Desolation of Smaug" (opening December 13th) and "Anchorman 2: The Legend Continues" (opening December 20th) looking like the big threats on the horizon, 'Catching Fire' may exceed the four-week stretch at number one of its predecessor.
I'm not surprised. The local theater I went to which is normally fairly *not* busy was packed on Saturday afternoon. Not every seat was filled, but almost.
Here's the thing: as good as the first film was, this film was better in nearly every way. And if you're familiar with the books, you'll know that this second in the series is no emotional lightweight, but somehow the film exceeded the heaviness of the book. I don't mind telling you that for both books and films, sometimes I get a little teary. I'm man enough to admit it (for instance, I cried a lot during the seventh Harry Potter book). I don't remember shedding too many tears when reading the second book, but this film… well let's just say I'm not sure how you couldn't at some points.
But it was really good. I'm planning to right a review just as soon as I can. If I'm lucky, maybe I'll get to write it tonight.