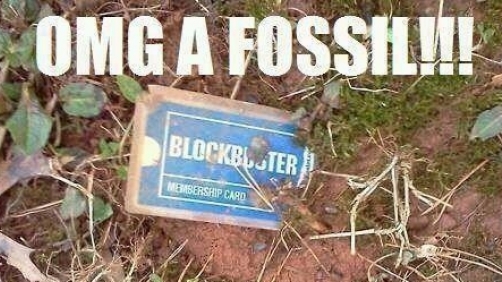 Germain Lussier - /Film
Blockbuster Video killed the mom and pop video store, and now technology has finally killed Blockbuster Video. After slowly but steadily closing down locations for the better part of a decade, the company announced Wednesday it is finally going to close the final 300 locations by early 2014, and discontinue its rental-by-mail system by the end of 2013. The brand will remain, however, offering movies digitally.

While a few indie stores will always endure, this more or less marks the official end of the video store era.
And progress marches ever on. But this is certainly making me feel kind of old. When I was a very young kid, I used to ride my bike to the local "mom and pop" video store — actually, it was owned and run by a guy named Dean Deerborn. While it was not Blockbuster that put him out of business, it was a chain, and that was Movie Gallery. But We went to Blockbuster in Pekin not far from where we lived at that time too. In fact it seemed like we went to Blockbuster quite often. I remember well walking through the isle trying to find something to watch by looking at the covers and by that making the determination on whether the film was any good or not.
But let's be honest, this nostalgia is all well and good, but we actually have it quite a bit better today. I can pull up Netflix on my Apple TV and browse by cover much more easily…