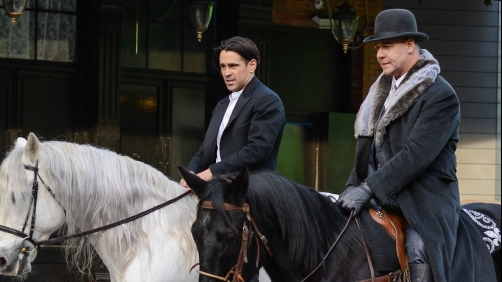 I sure do love a good fantasy story and I'm a real sucker for any thing coming up that looks like it could even be remotely interesting. I say that to say you'll have to judge for yourself whether this will be any good because I honestly have no idea and do not trust myself. But I sure did love the look of this trailer, even though I have no idea what the film or the story it's based on is ultimately about. Here's the only official synopsis I can find:
Set in a mythic New York City and spanning more than a century, "Winter's Tale" is a story of miracles, crossed destinies, and the age-old battle between good and evil.
Here's something slightly more illuminating from The Playlist:
Starring Colin Farrell, Russell Crowe, Jennifer Connelly and Jessica Findlay-Brown, the story follows a thief who breaks into a wealthy man's home, sparking a relationship with the man's terminally ill daughter with the apocalypse, rainbow bridges, resurrection, reincarnation and a flying, time-travelling white horse all part of the narrative. On the one hand, the movie looks pretty great visually, and Crowe in particular looks like he's having fun skulking around as the baddie. On the other hand, for all the sweeping emotion and music, we still have no idea what the hell this is about.
And here's the trailer: