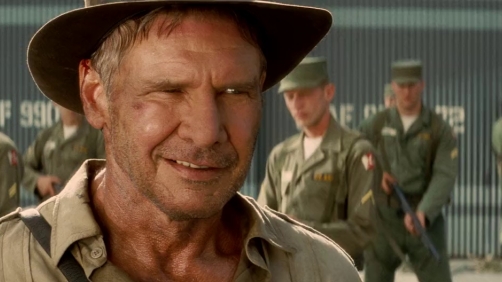 Dominic Patten - Deadline
This news came this past weekend from Dominic Patten over at Deadline.com. Though Disney purchased Lucasfilm last year, giving them the rights to future Star Wars films, the company did not have the marketing or distribution rights to make more Indiana Jones films - that right still belonged to Paramount, who was in charge of the first four films in the franchise.
The new deal gives Disney marketing and distribution rights to future films as well as retaining Lucasfilm's ownership rights — which basically means they've got the whole shebang now. Paramount, on the other hand, isn't left in the cold: The studio will continue to have distribution rights to the first four films. While details of the deal are unknown, Paramount also will receive financial rewards on any future Indiana Jones films that are produced and released by Disney.
Good news or bad? I mean, you can say what you want, and I know most people disagree with me, but I really enjoyed Kingdom of the Crystal Skull; I was a sophomore in high school when it was released, and I had only recently been introduced to Indiana Jones, so seeing the character on the big screen for the first time was a real treat for me. It was just lots of fun! And as I said with Star Wars, I have full faith that Disney will do a great job with it… anything is better than leaving it to George Lucas!
Anyway, since Disney is currently making Star Wars Episode VII and has two other Star Wars-related films on the drawing board, there has been no official announcement of a fifth Indiana Jones movie, but Harrison Ford has expressed interest in returning to the character, so I think that another Indiana Jones film is still a possibility at this point… and I, for one, am looking forward to it!