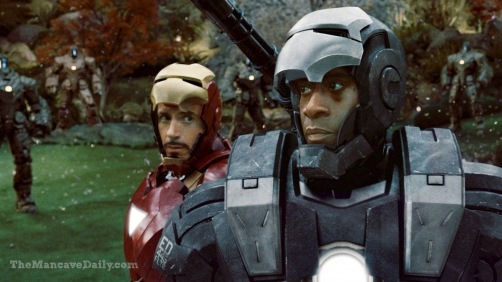 Germain Lussier - /Film
Joss Whedon has apparently decided he can't fool audiences twice. While he neglected to even mention Don Cheadle's War Machine character in The Avengers, the character had a much expanded role in Iron Man 3. That means it's now believed Cheadle's Col. James 'Rhodey' Rhodes, also known as War Machine and Iron Patriot, will play a role in Whedon's 2015 sequel Avengers: Age of Ultron.
...
UPDATE: Hitfix confirms, saying "Col. Rhodes, aka War Machine, has a key role in the conflict with Ultron that is the main focus of the sequel."

The question then becomes, what role will Rhodes have in the film? The most obvious one would be as a fighting member of The Avengers as they face off against Ultron (James Spader). However, with two other new characters being introduced (Aaron Taylor-Johnson as Quicksilver and Elizabeth Olsen as Scarlett Witch), not to mention apparently expanded roles for Hawkeye (Jeremy Renner) and Hulk (Mark Ruffalo) that's a whole lot of movie that's being squeezed together.
I mean, what else would he play, a villain? Don't count on that. I think assisting The Avengers is the safest bet right now. I can't see him playing an antagonist after being a good guy for three films.