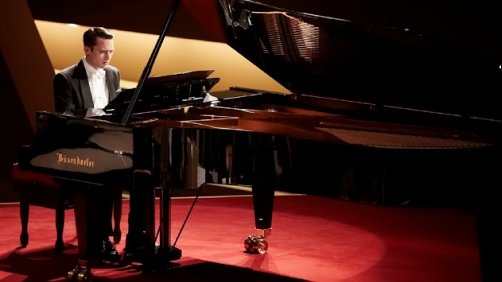 Talk about performing with a gun to your head. That appears to be exactly what Elijah Wood has to do in Grand Piano. It appears to be headed straight to VOD, but maybe that shouldn't fool us because it looks like there might be something here worth watching. The story: Elijah wood plays a famous concert pianist who returns from a hiatus only to find his life threatened while on stage. And if he plays one wrong note, the assassin (John Cusack) will kill him and his wife.
The trouble is, even the best pianist in the world makes a mistake or two here or there. You may never know it, but they do.
Elijah Wood plays Tom Selznick, the most talented pianist of his generation, who has stopped performing in public because of his stage fright. Years after a catastrophic performance, he reappears in public for a long awaited concert in Chicago. In a packed theater, in front of an expectant audience, Tom finds a message written on the score: "Play one wrong note and you die." In the sights of an anonymous sniper (Cusack), Tom must get through the most difficult performance of his life and look for help without being detected.
The film comes to VOD on January 30th, and will apparently get a theatrical run on March 7th.