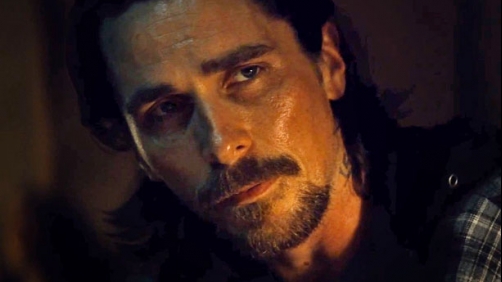 Things are looking a bit sparse this week in terms of new films. But that's okay because there's some seriously great films still in the theater right now. I mean, you've got The Hunger Games: Catching Fire, Thor: The Dark World, The Book Thief... what more could you need?
New This Weekend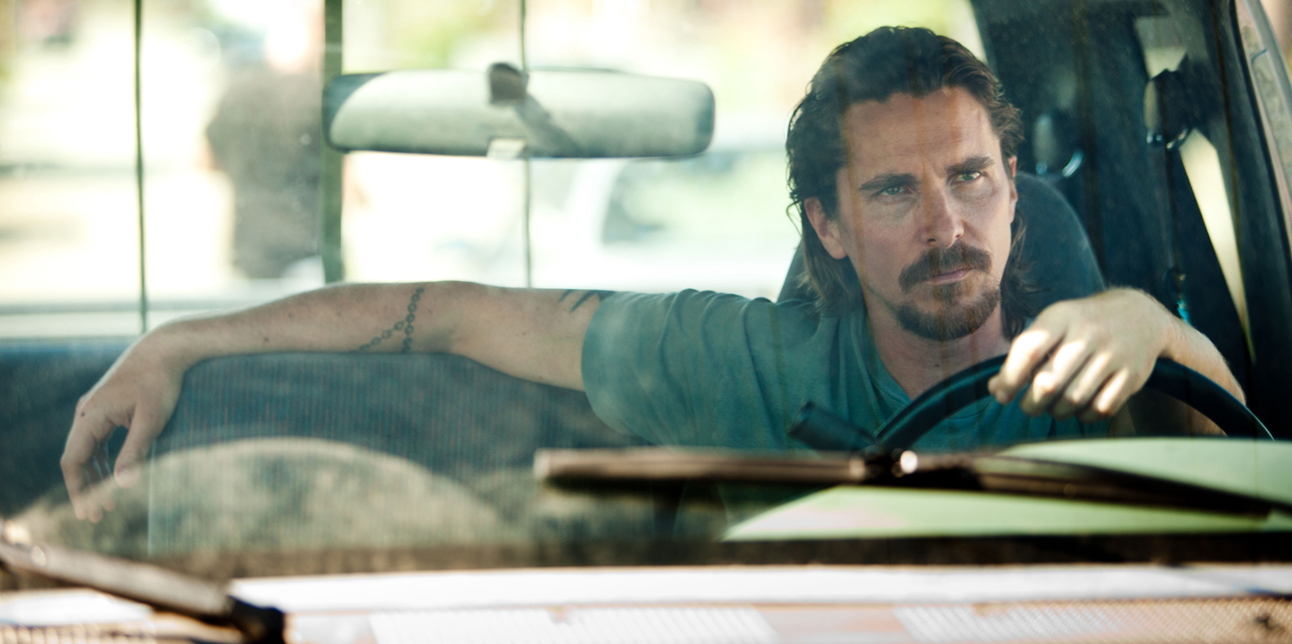 There's a few well known — or at least I know them — names behind this film: Christian Bale, Zoe Saldana, Woody Harrelson, Willem Dafoe on the acting side, Ridley Scott and Leonardo DiCaprio on the producing side of things. Despite those big name, the initial trailer and promos for this film had a very indy feel about them. I've been concerned from the beginning that this may not be the sort of film I would like and I still have that concern. But I'm going to at least think about seeing this.
From Scott Cooper, the critically-acclaimed writer and director of Crazy Heart, comes a gripping and gritty drama about family, fate, circumstance, and justice. Russell Baze (Christian Bale) has a rough life: he works a dead-end blue collar job at the local steel mill by day, and cares for his terminally ill father by night. When Russell's brother Rodney (Casey Affleck) returns home from serving time in Iraq, he gets lured into one of the most ruthless crime rings in the Northeast and mysteriously disappears. The police fail to crack the case, so - with nothing left to lose - Russell takes matters into his own hands, putting his life on the line to seek justice for his brother. The impressive cast of Christian Bale and Woody Harrelson are rounded out by Casey Affleck, Forest Whitaker, Willem Dafoe, Zoe Saldana and Sam Shepard.
1 hr 56 min
R | for strong violence, language and drug content
Cast: Christian Bale, Casey Affleck, Zoe Saldana, Sam Shepard, Woody Harrelson, Forest Whitaker, Willem Dafoe
Director: Scott Cooper
Genres: Drama, Suspense/Thriller
See or not: We'll see
---
Still In Theaters
The Book Thief - PG-13
Oh man is this good! I have been completely slammed with work and have not been able to write my review yet or do any podcasting about it. But allow me to assure you that this is well worth your time! Please go see it.
Chad and I will be recording our episode about it tonight and we'll release it tomorrow sometime so stay tuned for that.
In 1938, young orphan Liesel (Sophie Nélisse) arrives at the home of her new foster parents, Hans (Geoffrey Rush) and Rosa (Emily Watson). When Hans, a kindly housepainter, learns that Liesel cannot read, he teaches the child the wonders of the written language. Liesel grows to love books, even rescuing one from a Nazi bonfire. Though Liesel's new family barely scrape by, their situation becomes even more precarious when they secretly shelter a Jewish boy whose father once saved Hans' life.
2 hr 7 min
PG-13 | Some Violence and Intense Thematic Material
Cast: Sophie Nelisse, Geoffrey Rush, Emily Watson, Ben Schnetzer, Nico Liersch
Director: Brian Percival
Genres: Drama
See or not: See!
---
The Hunger Games: Catching Fire — PG-13
Wow! This film is SO good! The books, while having a good story behind them, are very poorly written. The first film by directory Gary Ross was decent, but also had it's flaws which I attribute to some unfortunate decisions by Ross. This film does away with almost every complaint I might have made against the first film. It is extrememly well done. The character development is paramount, the story is sound, the cinematography is great. In short, this film improves upon the first in every conceivable way and then some.
Chad, Fizz, and I talked about this film on The MovieByte Podcast Episode 70, and I released a video reviewabout the film earlier today. Be sure to check those out!
THE HUNGER GAMES: CATCHING FIRE begins as Katniss Everdeen has returned home safe after winning the 74th Annual Hunger Games along with fellow tribute Peeta Mellark. Winning means that they must turn around and leave their family and close friends, embarking on a "Victor's Tour" of the districts. Along the way Katniss senses that a rebellion is simmering, but the Capitol is still very much in control as President Snow prepares the 75th Annual Hunger Games (The Quarter Quell) - a competition that could change Panem forever.
2 hr 26 min
PG-13 | For intense sequences of violence and action, some frightening images, thematic elements, a suggestive situation and language.
Cast: Jennifer Lawrence, Woody Harrelson, Josh Hutcherson, Liam Hemsworth, Elizabeth Banks
Director: Francis Lawrence
Genres: Action/Adventure
See or not: SEE!!!!!!!!!
---
Frozen — PG
This doesn't look like something I'm personally all that interested in — but then, I'm known to be a little bit cranky about goofy looking films every now and then. I try not to be but I can't help it. I mean, honestly this thing just looks too stupid. But you and/or your kids might enjoy it so to each their own. I'm not going to judge (well, maybe a little…).
In "Frozen," fearless optimist Anna (voice of 'Kristen Bell' ) teams up with rugged mountain man Kristoff (voice of 'Jonathan Groff' ) and his loyal reindeer Sven in an epic journey, encountering Everest-like conditions, mystical trolls and a hilarious snowman named Olaf in a race to find Anna's sister Elsa (voice of Idina Menzel), whose icy powers have trapped the kingdom of Arendelle in eternal winter. Encountering Everest-like conditions, mystical trolls and a hilarious snowman named Olaf, Anna and Kristoff battle the elements in a race to save the kingdom.
1 hr 8 min
PG
Cast: Kristen Bell, Idina Menzel, Jonathan Groff, Josh Gad, Santino Fontana
Director: Chris Buck, Jennifer Lee
Genres: Action/Adventure, Animated
See or not: Meh
---
Thor: The Dark World — PG-13
This was a pretty great film in my opinion. It was at least way better than the first Thor film which, frankly, wasn't great. I thought this film corrected many of the failings of the first and had some great character development. I did have some minor issues with the film, but you can read all about those in my written review, or watch me talk about it on my new show ByteSized, or listen to over 1.5 hours of Me, Joe, Chad, and Mike Fissel yammering on about it (it was a lot of fun).
Marvel's "Thor: The Dark World" continues the big-screen adventures of Thor, the Mighty Avenger, as he battles to save Earth and all the Nine Realms from a shadowy enemy that predates the universe itself. In the aftermath of Marvel's "Thor" and "Marvel's The Avengers," Thor fights to restore order across the cosmos…but an ancient race led by the vengeful Malekith returns to plunge the universe back into darkness. Faced with an enemy that even Odin and Asgard cannot withstand, Thor must embark on his most perilous and personal journey yet, one that will reunite him with Jane Foster and force him to sacrifice everything to save us all.
1 hr 51 min
PG-13 | some suggestive content and intense sci-fi action/violence
Cast: Chris Hemsworth, Natalie Portman, Tom Hiddleston, Stellan Skarsgård, Idris Elba
Director: Alan Taylor
Genres: Action/Adventure, Sci-Fi/Fantasy
See or not: SEE!
---
Homefront — R
Again, this doesn't look all that compelling. It looks sort of like some version of Taken with Jason Statham, and I'm not sure why I would want to see that. Still, from the trailer, it likes like it could be mildly compelling, but ultimately I'm guessing it will be sort of forgettable. If I run out of other things to see I might go see it (so probably not).
Hoping to escape from his troubled past, former DEA agent Phil Broker (Jason Statham) moves to a seemingly quiet backwater town in the bayou with his daughter. However, he finds anything but quiet there, for the town is riddled with drugs and violence. When Gator Bodine (James Franco), a sociopathic druglord, puts the newcomer and his young daughter in harm's way, Broker is forced back into action to save her and their home. Based on a novel by Chuck Logan.
1 hr 40 min
R | for strong violence, pervasive language, drug content and brief sexuality Cast: Jason Statham, James Franco, Kate Bosworth, Frank Grillo, Izabela Vidovic, Clancy Brown, Omar Miller, Winona Ryder, Rachelle Lefevre
Director: Gary Fleder
Genres: Action/Adventure, Suspense/Thriller
See or not: Meh
---
Mandela: Long Walk to Freedom (limited release)— PG-13
This one looks good! Unfortunately, it's not playing in the Nashville area yet. The film stars Idris Elba of Pacific Rim fame, and Naomie Harris of Pirates of the Caribbean and Skyfall fame.
It has been a fact of history that white men have oppressed the black people. It is a sad fact, but it is a fact none-the-less and is therefore worth talking about, worth making films about, worth bringing attention to. That doesn't mean a bad film on the subject will get a pass from me, but this one looks like one of the good ones from what I can tell. Particularly good I think will be Idris Elba. If it's playing near you I think this one is a no-brainer.
Nelson Mandela (Idris Elba) serves 27 years in prison, is instrumental in the abolishment of apartheid and eventually becomes South Africa's president.
2 hr 19 min
PG-13 | Intense Sequences of Violence, Disturbing Images, Brief Strong Language and Sexual Content
Cast: Idris Elba, Naomie Harris, Tony Kgoroge, Riaad Moosa, Zolani Mkiva
Director: Justin Chadwick
Genres: Drama
See or not: See
---
Ender's Game — PG-13
While this film has some pacing problems, I did enjoy it quite a lot. I guess I made the "mistake" of reading the book first and that sort of ruins any film adaption thereafter I suppose. But the essentials of the plot from the book are in place here in the film, and seeing the elements of the book either as I had imagined them, or sometimes even better is always awesome. And Asa Butterfield knocks this one out of the park, as do Harrison Ford and Hailee Steinfeld.
I wrote a review which you might want to check out. We also talked about it on The MovieByte Podcast and you might want to check that out. I also did the inaugural episode of ByteSized on Ender's Game. It's short and sweet so definitely check that out.
In the near future, a hostile alien race has attacked Earth. If not for the legendary heroics of International Fleet Commander Mazer Rackham, all would have been lost. In preparation for the next attack, the highly esteemed Colonel Hyrum Graff and the International Military are training only the best young minds to find the future Mazer. Ender Wiggin, a shy but strategically brilliant young leader, is recruited to join the elite. Arriving at Battle School, Ender quickly and easily masters increasingly difficult challenges and simulations, distinguishing himself and winning respect amongst his peers. Ender is soon ordained by Graff as the military's next great hope, resulting in his promotion to Command School. Once there, he's trained by Mazer Rackham himself to lead his fellow soldiers into an epic battle that will determine the future of Earth and save the human race.
1 hr 54 min
PG-13 | thematic material, some violence and sci-fi action
Cast: Harrison Ford, Asa Butterfield, Ben Kingsley
Director: Gavin Hood
Genres: Action/Adventure
See or not: See!