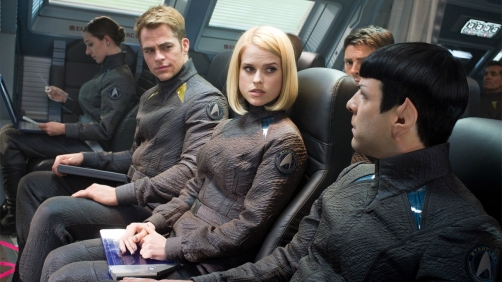 The Hollywood Reporter
J.D. Payne and Patrick McKay have been tapped to write Star Trek 3[sic] for Paramount and Skydance Productions.

The duo will join Roberto Orci, who co-wrote the first two installments of the reboot with partner Alex Kurtzman and Damon Lindelof. Orci is working without Kurtzman on this one.

The next Star Trek film is untitled and unscheduled, but Paramount and Skydance are hoping to have a film in time for the franchise to celebrate its 50th anniversary in 2016. Stars Chris Pine, Zachary Quinto and Zoe Saldana are expected to return.
Since Abrams will also not be directing due to him directing Star Wars VII, it's going to be fresh blood all around. I know many, many people will be rejoicing to here that Damon Lindelof is out. I'm a little more ambivalent, however having fresh blood in the writer's room will not be an altogether bad thing in my opinion. I'm excited to see what a new director and some new writers could bring to the table.