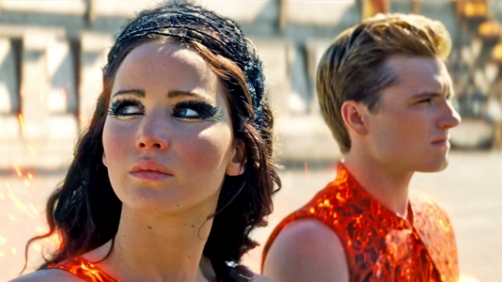 Jeff Labrecque — Entertainment Weekly
Iron Man 3 had the year's biggest opening weekend and dominated the summer box office, but when the dust eventually settles on 2013, Catching Fire will go down as the year's biggest smash. The second film in the Hunger Games franchise, based on Suzanne Collins' book trilogy, inched past Marvel's superhero movie on Jan. 9 and now holds the top spot with $409.4 million.

Combined with the original Hunger Games, which grossed $408.0 million in 2012, the Lionsgate films became the first franchise whose initial two installments each topped the $400 million barrier. In addition, Catching Fire has pulled in another $428.8 million internationally, a dramatic upgrade over the Hunger Game's foreign haul of $283.2 million.
Crazy — not that Catching Fire topped Iron Man 3 because Catching Fire is the better film, but just the amount of money this film is raking in. It's pretty stunning.
Jeff also listed the top movies of 2013 which I will list here:
Top 10 Movies, 2013
1. Catching Fire ($409.4 million)
2. Iron Man 3 (&409.0)
3. Despicable Me 2 ($368.0)
4. Frozen ($301.5)
5. Man of Steel ($291.1)
6. Monsters University ($268.5)
7. Gravity* ($255.8)
8. Fast & Furious 6 ($238.7)
9. Oz: The Great and Powerful ($234.9)
10. The Hobbit: The Desolation of Smaug ($234.2)