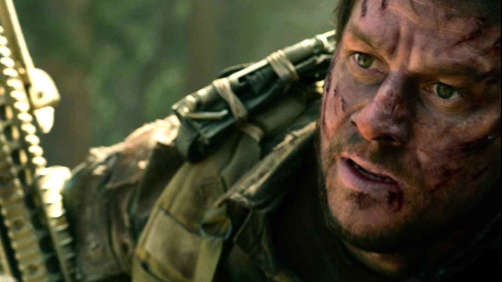 There is absolutely nothing new that I can recommend this weekend. That's January at the cinema I reckon. Still, there are a few things holding out that are worth seeing. And some that aren't. I'll do my best to help you narrow down your choices.
Lone Survivor — R
I saw the trailer and I was really not interested. I just didn't want another "guys war movie". But then it was getting pretty good critical reviews. And audiences love it. So I decided to see it and talk about it. Let's just say that I did not find it as compelling as many (including Corey, who wrote the MovieByte Review). But I did find it to be better than I expected and I would even go so far as to say everyone should see it once. Sure it has pacing problems and it's a bit worshipful at times, but it does have a great morality tale to tell and for that, you should see it.
I talked about it with Chad on episode 77 of The MovieByte Podcast so be sure to check that out too!
LONE SURVIVOR, starring Mark Wahlberg, tells the story of four Navy SEALs on an ill-fated covert mission to neutralize a high-level Taliban operative who are ambushed by enemy forces in the Hindu Kush region of Afghanistan. Based on The New York Times bestseller, this story of heroism, courage and survival directed by Peter Berg (Friday Night Lights) also stars Taylor Kitsch, Emile Hirsch, Ben Foster and Eric Bana.
2 hr 1 min
R | Strong Bloody War Violence and Pervasive Language
Cast: Mark Wahlberg, Ben Foster, Emile Hirsch, Taylor Kitsch, Eric Bana
Director: Peter Berg
Genres: Action/Adventure, Drama
See or not: See
---
The Nut Job — PG
Do I have to tell you that this looks bad? I re-watched the trailer to make sure. Yep, it looks pretty terrible. Let's avoid this one, m'kay?
In animated 3D, THE NUT JOB is an action-packed comedy in fictional Oakton that follows the travails of Surly (voiced by Will Arnett), a mischievous squirrel, and his rat friend Buddy, who plan a nut store heist of outrageous proportions and unwittingly find themselves embroiled in a much more complicated and hilarious adventure.
1 hr 26 min
PG | Rude Humor and Mild Action
Cast: Will Arnett, Brendan Fraser, Liam Neeson
Director: Peter Lepeniotis
Genres: 3D, Animated, Comedy, Family
See or not: Not!
---
Frozen — PG
This doesn't look like something I'm personally all that interested in — but then, I'm known to be a little bit cranky about goofy looking films every now and then.
Chad and Joe sure liked it. I got "deathly" ill around the time this film came out, lost my voice and everything, so Joe stepped in and reviewed the film with Chad on The MovieByte Podcast, so you should check that out.
In "Frozen," fearless optimist Anna (voice of 'Kristen Bell' ) teams up with rugged mountain man Kristoff (voice of 'Jonathan Groff' ) and his loyal reindeer Sven in an epic journey, encountering Everest-like conditions, mystical trolls and a hilarious snowman named Olaf in a race to find Anna's sister Elsa (voice of Idina Menzel), whose icy powers have trapped the kingdom of Arendelle in eternal winter. Encountering Everest-like conditions, mystical trolls and a hilarious snowman named Olaf, Anna and Kristoff battle the elements in a race to save the kingdom.
1 hr 8 min
PG
Cast: Kristen Bell, Idina Menzel, Jonathan Groff, Josh Gad, Santino Fontana
Director: Chris Buck, Jennifer Lee
Genres: Action/Adventure, Animated
See or not: See (Chad and Joe Recommendation)
---
Jack Ryan: Shadow Recruit — PG-13
Jack Ryan used to be a CIA analyst who would accidentally get himself into all sort of trouble and strange international situations that resulted in action. Well that's not really the case anymore. Now he's a secret agent who's looking for the action.
This film was slightly better than I thought it would be but not nearly as good as I wanted it to be. I've been a fan of the previous Jack Ryan films and this film just doesn't live up. For more, be sure to read my review, and catch The MovieByte Podcast Episode 76 where Chad and I talk about the film.
To his friends and loved ones, young Jack Ryan (Chris Pine) appears to be an ordinary executive; however, he has secretly worked for the CIA for years. Ryan was originally brought in to crunch global data, but when he uncovers a carefully planned scheme to crash the U.S. economy and spark global chaos, he becomes the only man with the skills to stop it. Now a full operative, Ryan finds himself caught between his secretive handler, his clueless fiancee and a brilliant Russian leader.
1 hr 45 min
PG-13 | Intense Action, Brief Strong Language and Sequences of Violence
Cast: Chris Pine, Keira Knightley, Kevin Costner, Peter Andersson, Kenneth Branagh
Director: Kenneth Branagh
Genres: Action/Adventure, Suspense/Thriller
See or not: See
---
I, Frankenstein — PG-13
I really don't know exactly what to say about this film. I kind of like the concept, but I am having a hard time taking this thing seriously. I'm actually expecting this to be pretty bad. Maybe I'll see it, so I can see for myself how bad it is, but it sure won't be this weekend.
Set in a dystopic present where vigilant gargoyles and ferocious demons rage in a battle for ultimate power, Victor Frankenstein's creation Adam (Aaron Eckhart) finds himself caught in the middle as both sides race to discover the secret to his immortality. From the creators of the hit supernatural saga, UNDERWORLD, comes the action thriller I, FRANKENSTEIN, written for the screen and directed by Stuart Beattie based on the graphic novel "I, Frankenstein" by Kevin Grevioux
1 hr 32 min
PG-13 | Sequences of Fantasy Action and Sequences of Fantasy Violence
Cast: Aaron Eckhart, Bill Nighy, Miranda Otto
Director: Stuart Beattie
Genres: 3D, Action/Adventure, Sci-Fi/Fantasy
See or not: Probably Not
---
American Hustle — R
I know almost nothing about this film. It looks like it could be kind of good, but it also doesn't really look like my kind of film. And yet, with it being an Oscar Nominee, I'm going to see it this weekend and we're going to talk about it on the Podcast next week. Stay tuned in to find out more soon!
A fictional film set in the alluring world of one of the most stunning scandals to rock our nation, American Hustle tells the story of brilliant con man Irving Rosenfeld (Christian Bale), who along with his equally cunning and seductive British partner Sydney Prosser (Amy Adams) is forced to work for a wild FBI agent Richie DiMaso (Bradley Cooper). DiMaso pushes them into a world of Jersey powerbrokers and mafia that's as dangerous as it is enchanting. Jeremy Renner is Carmine Polito, the passionate, volatile, New Jersey political operator caught between the con-artists and Feds. Irving's unpredictable wife Rosalyn (Jennifer Lawrence) could be the one to pull the thread that brings the entire world crashing down. Like David O. Russell's previous films, American Hustle defies genre, hinging on raw emotion, and life and death stakes.
2 hr 9 min
R | for pervasive language, some sexual content and brief violence
Cast: Christian Bale, Bradley Cooper, Amy Adams, Jeremy Renner, Jennifer Lawrence
Director: David O. Russell
Genres: Drama
See or not: Maybe
---
I wanted to see this film. I was interested in the story, it's Martin Scorsese, etc. But I have to say, given what I know about this film, that my personal opinion is that under no circumstances should you go see this film. Again, that's based on a what I know. I do not plan to see this film. My understanding is that it is filled with graphic sex (to the point of what could be considered pornography) and nudity, and all manner of debauchery. It is one thing to depict that this is the lifestyle these men led, it's another thing to revel in it. It seems to me that The Wolf of Wall Street is doing the latter.
In 1987, Jordan Belfort (Leonardo DiCaprio) takes an entry-level job at a Wall Street brokerage firm. By the early 1990s, while still in his 20s, Belfort founds his own firm, Stratton Oakmont. Together with his trusted lieutenant (Jonah Hill) and a merry band of brokers, Belfort makes a huge fortune by defrauding wealthy investors out of millions. However, while Belfort and his cronies partake in a hedonistic brew of sex, drugs and thrills, the SEC and the FBI close in on his empire of excess.
2 hr 59 min
R | Graphic Nudity, Drug Use, Language Throughout, Some Violence and Strong Sexual Content
Cast: Leonardo DiCaprio, Jonah Hill, Margot Robbie, Matthew McConaughey, Kyle Chandler
Director: Martin Scorsese
Genres: Documentary
See or not: NOT!!!
---
Her — R
So this film looks completely bizarre. A guy falling in love with a computer Operating System that is apparently sentient? Where can that story even go? And yet apparently it's supposed to be a really good film. In fact the critic rating on Rotten Tomatoes is 92%, and the audience isn't terribly far behind at 86%.
I have heard that Scarlett Johansson's voice work in this film as the OS is second to none. I plan to see it, though the R rating for brief graphic nudity does worry me. Maybe I won't. We'll see.
A sensitive and soulful man earns a living by writing personal letters for other people. Left heartbroken after a long love affair ends, Theodore (Joaquin Phoenix) becomes fascinated with a new operating system which reportedly develops into an intuitive and unique entity in its own right. He starts the program and meets "Samantha" (Scarlett Johansson), whose bright voice reveals a sensitive, playful personality. Though "friends" initially, the relationship soon deepens into love.
1 hr 59 min
R | Language, Brief Graphic Nudity and Sexual Content
Cast: Joaquin Phoenix, Amy Adams, Scarlett Johansson, Rooney Mara, Chris Pratt, Olivia Wilde
Director: Spike Jonze
Genres: Romance
See or not: Unknown, but apprehensive
---
Saving Mr. Banks — PG-13
I don't really harbor the best of feelings toward Marry Poppins, but I suspect that's because I watched about 50 bazillion times as a kid, and then the 50 bazillionth and one broke the camels back. I did recently re-watch the film, and it's just as weird and in some ways terrible as I remember. But it could also be delightful.
I do feel like I would have enjoyed this film more if I had enjoyed Disney's Mary Poppins more. That said, I did enjoy Saving Mr. Banks quite a lot. I only wish that Disney had not made it because it does feel slightly like a P.R. piece for Disney (surprise surprise). I reviewed it and gave it 4 out of 5 stars. And then Chad and I talked about it on The MovieByte Podcast #75. I also did a ByteSized Video Review of the film.
When Walt Disney's daughters begged him to make a movie of their favorite book, P.L. Travers' "Mary Poppins," he made them a promise—one that he didn't realize would take 20 years to keep. In his quest to obtain the rights, Walt comes up against a curmudgeonly, uncompromising writer who has absolutely no intention of letting her beloved magical nanny get mauled by the Hollywood machine. But, as the books stop selling and money grows short, Travers reluctantly agrees to go to Los Angeles to hear Disney's plans for the adaptation. Armed with imaginative storyboards and chirpy songs from the talented Sherman brothers, Walt launches an all-out onslaught on P.L. Travers, but the prickly author doesn't budge. It is only when he reaches into his own childhood that Walt discovers the truth about the ghosts that haunt her, and together they set Mary Poppins free to ultimately make one of the most endearing films in cinematic history.
2 hr 5 min
PG-13 | Thematic elements including some unsettling images
Cast: Emma Thompson, Tom Hanks, Colin Farrell, Bradley Whitford, Paul Giamatti
Director: John Lee Hancock
Genres: Drama
See or not: See (I think)