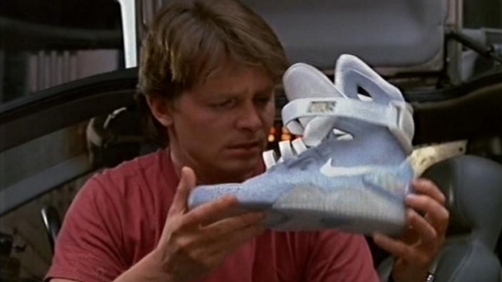 Angie Han — /Film
Technically, we've still got one year to go before Marty McFly is due to fly in from 1985 in his DeLorean. But so far, it's not looking all that likely that next year will deliver on the oddly '80s-ish future promised in Back to the Future Part II. There are no hoverboards in the streets, the Jaws frachise stalled after four installments, and fax machines are growing more obsolete by the day.

Still, there's at least one detail that's sure to come true if Tinker Hatfield has anything to do with it. The Nike designer has revealed that power laces are indeed coming in 2015, just as Back to the Future Part II said they would.
Well that's kind of freaky.
Also, if everyone gets too lazy to tie their own shoes, God help us.