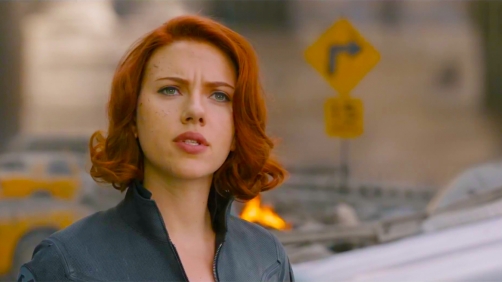 Joanna Robinson — Vanity Fair
Hold on to your hammers, Scarlett Johansson is about to shatter the comic book movie glass ceiling. After stealing scenes from Tony Stark and the rest of super men in Iron Man 2 and The Avengers, Scarlett Johansson's popular spy character Black Widow is going to get her own movie. Marvel Studio president Kevin Feige has said that the Marvel movie universe is going to change dramatically going forward.

We wanted to change the dynamic of the cinematic universe with [Captain America: The Winter Soldier]. We wanted Cap and really the entire cinematic universe to be very different [...] [Black] Widow's part in that is very big. We learn more about her past and learn more about where she came from and how she became in that film. The notion of exploring that even further in her own film would be great, and we have some development work with that.

Presumably, Hollywood has been hesitant to make a female character the center of a comic book movie ever since the back to back box office failure of Catwoman and Elektra in 2004 and 2005. If Halle Berry couldn't sell a superhero movie fresh off the heels of an Oscar win, what chance did anyone else have? Never mind that scripts were terrible, comic book heroines weren't seen as money makers in their own right.
Right, Halle Barry's Catwoman doesn't count because I'm given to understand it was just a terrible movie. That was right before film started taking the Batman universe seriously with Christopher Nolan's reboot. Yes, by 2004 we had started to realize that you can't just translate a comic book straight to film cheese and all and expect it to work, but there were still some outliers, like Catwoman. I have less knowlege of Elektra.
It depends on what they do and how they do it, but I think I would like a Black Widow movie. I can't see why I wouldn't.