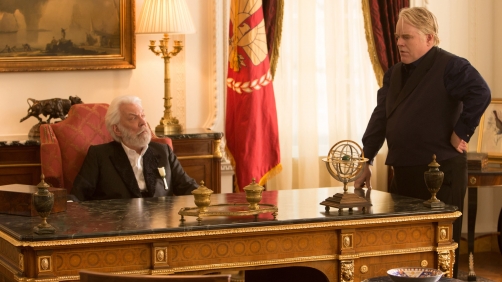 Sean O'Connell
Sources touched on the fact that Hoffman still had one major scene left to film in Mockingjay, Part 2, and that certain filmmaking tricks would have to be employed to complete the movie. Today, yet another version of that story is circulating, with The NY Post becoming the first outlet to confirm that the filmmakers will "digitally recreate" Hoffman in this pivotal scene. As was reported earlier, none of this will affect the release date of either Mockingjay film. Part one is due in theaters on Nov. 21.

At the risk of sounding insensitive, of course Hoffman is going to have to be recreated digitally. The studio is left with very few options in light of what has occurred. The first two movies adapted from The Hunger Games books have followed the source material very closely, and a rewrite for a character as important as Heavensbee is out of the question. Recasting makes no sense, as Hoffman allegedly had only seven days left to film (and reportedly had completed all of his work in Mockingjay, Part 1). What, are you going to allow Hoffman to play the character in Catching Fire and the first Mockingjay, then ask an actor to fill his shoes in the franchise's swan song?
Right. Some stirrings in some corners seem to think it's disrespectful and crass, but I don't see much of another choice, really. It would seem even more disrespectful to discard the work that Hoffman had already done, which was almost all of it. Not to mention, do you know how cost prohibitive it would be to re-shoot all that?
I'm fine with this choice and glad we're living in an age when finishing the film with digital recreations is actually possible.