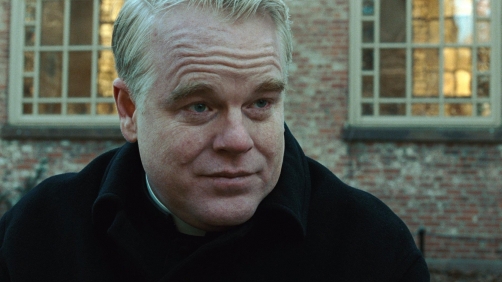 New York Post
Oscar-winning actor Philip Seymour Hoffman was found dead of an apparent heroin overdose — with a hypodermic needle still stuck in his arm — inside a Greenwich Village apartment on Sunday, cops said.

Screenwriter and friend David Bar Katz called 911 around 11:30 a.m. after he and a female friend found Hoffman in his underwear on a bathroom floor at 35 Bethune St., sources said.

The pair went to check on Hoffman after he missed an appointment to pick up his three kids from longtime girlfriend Mimi O'Donnell, sources said.
Man you guys, this is heavy news to start off our Monday. This is a tragedy beyond words. And to go like this.
Cops found five empty glassine envelopes in a garbage can, two more under the bed and one on a table in the apartment, where Hoffman — who has repeatedly struggled with substance abuse — was living recently, sources said.
Man, what a way to go. It grieves me so much.
The Lionsgate entertainment company — for which Hoffman co-starred in "The Hunger Games" franchise — called him "a singular talent and one of the most gifted actors of our generation."

"We're very fortunate that he graced our Hunger Games family. Losing him in his prime is a tragedy, and we send our deepest condolences to Philip's family," the company said.

Hoffman's work on "The Hunger Games: Mockingjay Part 1″ was largely complete and he had seven days of shooting left on "Part 2," and his death is not expected to affect their scheduled openings in November of this year and November 2015, respectively.
For better or for worse and whatever it says about me, after the initial shock of hearing of his passing and after composing myself, I did think of Mocking Jay and wondered how the films would be affected. Looks like they won't be affected much.
But in any event, what a tragedy. And man alive, if you are struggling with a substance addiction, please, please admit there's a problem and get help. It's not worth this. There are those who would judge you, and I fully admit that I do not completely understand substance addiction of any kind, but I do know that things like an addiction can have a vice-like grip on you. And there is help.
What a tragedy. Those of us who don't know him will miss his amazingly talented acting, and those who were close will morn his untimely passing.