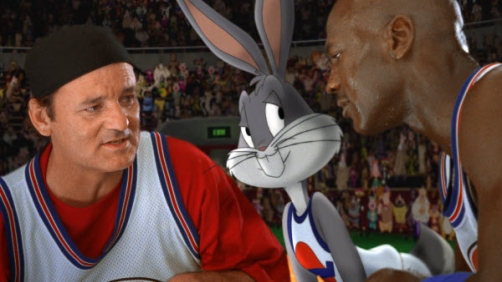 Anita Busch — Deadline
According to Deadline.com, a sequel to the 1996 Warner Bros. film Space Jam is in the works, with Lebron James set to star.
Another Space Jam film? Why not? The first film, which broke ground for Warner Bros and starred then-Chicago Bulls star Michael Jordan and a slew of other top NBA players, ended up grossing $230M worldwide for the studio.

Charlie Ebersol, who already has a good relationship with the NFL through his NFL Characters Unite series on USA Network, is about ready to do the same with the NBA. He has been brought on to the produce the picture through his production company, The Company, from a script by his brother Willie Ebersol. The latter won an Emmy for the London Olympics. This is his first screenplay.
I don't know about you guys, but I can't imagine this film being any good. I mean, as much as I love the original film starring Michael Jordan (I was 4 years old when it was released in theaters…my love for it is nostalgia-driven), even it wasn't a very good movie. And nobody likes Lebron James that much, do they? I sure hope not.
Despite what Deadline says, the folks over at Hypable.com say that a few sources close to Lebron James have claimed that the Miami Heat basketball player is not involved in any such project. In any case, Deadline is usually a pretty solid source, so it's still likely that this film is being made, whether James is involved or not. I suppose we'll just have to wait and see what happens.