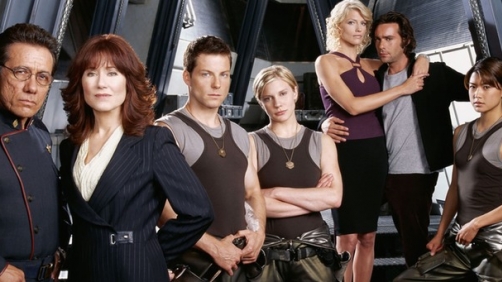 Andrew Sims — Hypable
The Battlestar Galactica movie has been rumored for some time, but today it's taken a big step forward.

Universal has signed Transcendence (starring Johnny Depp) screenwriter Jack Paglen to pen the project, according to Variety. The report says that the film is a "complete reimagining" of the story. Series creator Glen Larson will produce the film.
Oh man, here's the thing: the Battlestar Galactica reboot in 2003 was really good. At times it was even great. At no time was I bored or disappointed while watching (save for once). My only wish is that we could strike the last episode from existence and have a do-over. I certainly did not want or need this inevitable reboot.
On the other hand, making a movie out of Battlestar Galactica could be great. It will be interesting to see if it's in any way related to the most recent series conceptually, whether it's closer to what the original Battlestar Galactica was, or whether it really is yet another reimagining of the franchise…
This gif really helps sum up my feelings: