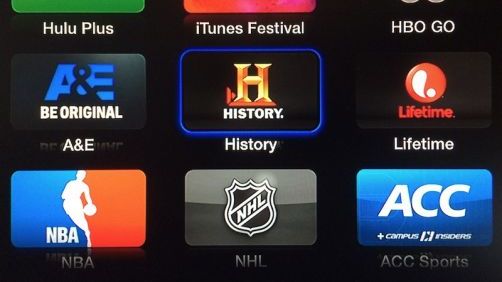 Kelly Hodgkins — MacRumors
Apple today has added new channels from A&E Networks to its Apple TV, including A&E, The History Channel and Lifetime. Select Apple TV owners will be able to watch episodes from popular TV shows such as Duck Dynasty, Storage Wars, and Project Runway.

These new channels on the Apple TV offer a preview to all users, but full content is only available to cable television subscribers. Currently, the service is available to customers who subscribe to DirecTV, Verizon FiOS, and Cablevision Optimum, with support for additional providers coming in the near future.
I continue to believe that Apple is doing this wrong. These are just more channels for me to go into the settings and hide because I'll never use them. At this point, my Apple TV home screen would be so cluttered if I didn't immediately hide new and useless (to me) channels.
Here's the way I would like to see Apple move forward with this and provide a better experience. Add a channel options in the settings, or a channels store or whatever. Have them OFF by default. When new channels are available, notify users via pop-up notification with the option to show or hide them. Under no circumstances should the default be that new channels are automatically added to the home screen.
This seems so simple and unlike Apple not to solve.