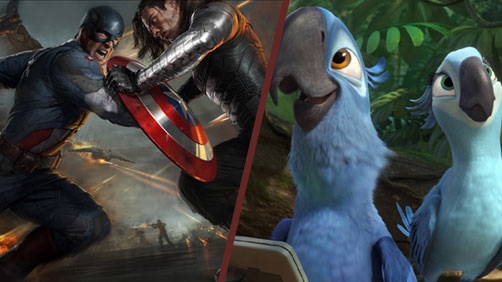 Kevin Jagernauth — The Playlist
Is was the battle of the sequels this weekend. With "Rio 2" arriving as the toughest competition to the behemoth that is "Captain America: The Winter Soldier," the question was whether or not the Marvel hero could off the family friendly newcomer. And it was a close battle, but Steve Rogers emerged victorious.

"Captain America: The Winter Soldier" landed in number one for the second weekend in a row despite falling 56% from the previous weekend, adding $41 million to its bank account, for an impressive $159 million so far at home that, when added to the bountiful overseas haul, gives the Marvel movie $476 million worldwide and counting. Damn.
Holy box office, Batman!... wait, wrong franchise. Whatever. That's a lot of money.
Perhaps Warner Bros. should start worrying about "Captain America 3" opening opposite "Batman Vs. Superman" in 2016.
I mean, that's what I've been saying. It will be an extremely foolish move for Warner Bros. to persist in challenging the Marvel machine head on.
As for "Rio 2," the $39 million opening basically matches what the original film debuted at three years ago. You certainly don't make sequels to perform the same as their predecessors, but Fox Animation will take heart in the overseas numbers, given the film opened at number one in thirty-five countries and took $62.3 million for a worldwide weekend total of $125.2 million. Not too shabby.
I really enjoyed the first Rio. It's a solid film and I expect the second film to be good when I get to see it.