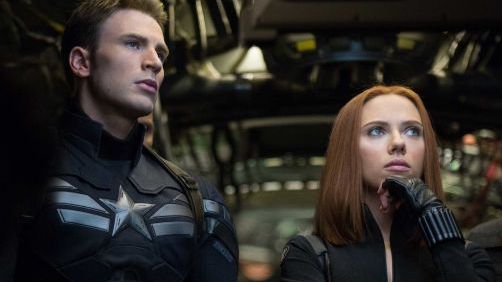 Rodrigo Perez — The Playlist
Disney is having a good year. Thanks to the insane success of "Frozen" and their Marvel studios wing, the studio has already crossed the $1 billion mark for 2014 and it's not even May. Part of that success is thanks to "Captain America: The Winter Soldier," which spent its third week at the #1 box-office spot. Crossing the $200 million mark domestically, the film added another $26.6 million to its domestic tally (only down 36% from the previous weekend) and banked another $35.3 million overseas for $586 million total worldwide. Could it be one of Marvel's highest grossing films ever? Maybe, but it still has a ways to go to crack the top 2 ("Avengers" with 1.5 billion and "Iron Man 3" with $1.2 billion).

As it stands, 'Winter Soldier' will surpass "Thor: The Dark World" any minute now (therefore cracking the domestic top 5 for Marvel Cinematic Universe films), and globally, it ranks as the fifth highest grossing film in the MCU so far (and landing in the top three should be doable at this pace). Speaking of Disney, the "Frozen" juggernaut keeps going. It's now at $1.129 billion worldwide, making it the 6th highest-grossing movie of all-time. Expect a bounty of sequels to eventually come.
Marvel, and Disney for that matter, seem unstobbable at the moment — and with good reason. They're turning out some great films right now.
"Rio 2" held strong to keep the #2 position. taking in an estimated $22.5 million (and only down 35% from last weekend). This certainly bodes well for its long-term legs.
I'd definitely like to see this soon. I'm taking a little break from the MovieByte Podcast until next week, and from the cinema (trying to avoid burnout), but Rio 2 is high on my list to see. The first one was certainly good, clean fun.
If he weren't making eight kajillion dollars per movie,Johnny Depp would be worried. The actor's "Transcendence" movie (directed by Christopher Nolan DP Wally Pfister) tanked rather hard with only a paltry $11.1 million opening. "Transcendence" was budgeted by Warner Bros. at $100 million (so that probably means $120 million), and that's not including promotion and advertising, so let's just say this is WB's first extremely big flop of the year. Especially since it's got global superstar Johnny Depp in the lead. This is Johnny Depp's fourth flop in a row ("The Lone Ranger," 2012's "Dark Shadows" and 2011's "The Rum Diaries") and his worst wide opening (3000+ theaters) since the 'Pirates' movie made him a star. Agents and business managers might be worried too, if they weren't all making a mint.
That's sad to hear. I liked the look of Transcendence, and I liked the idea of it being directed by The Dark Knight trilogy cinematographer, Wally Pfister. Although I have to admit that my spirits and enthusiasm were damped to a large extent by his extreme lack of sportsmanship when he talked about how The Avengers was a terrible from from a cinematographic perspective. Given that everyone loved The Avengers and I generally thought the Cinematography was fine, and now that his own film has flopped, that just makes his remarks that much more irritating and offputting.