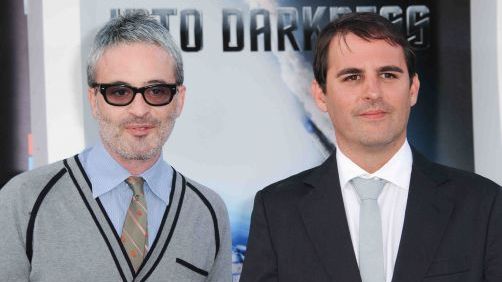 Brian Drew — TrekMovie.com
Roberto Orci and Alex Kurtzman, the screenwriting and producing duo who have worked on some of Hollywood's biggest franchises(Mission:Impossible, Transformers, Star Trek,the upcoming Amazing Spider-Man 2) have decided to end their feature film partnership so they can both pursue directing careers. Their company, K/O Paper Products, will not dissolve, however. The two are will continue to collaborate on various television projects, both current and upcoming.

Kurtzman is already set to direct "Venom", a spinoff of the Spider-Man franchise. Orci's directorial ambitions will be of great interest to Trek fans.
Do tell:
Orci is currently laser focused on the upcoming "Star Trek 3." He's already been tapped to pen the picture along with Patrick McKay and John D. Payne, and he's lobbying heavily to direct the production. The film's co-producers, J.J. Abrams' Bad Robot and David Ellison's Skydance, appear to be in favor of Orci helming the film, but people familiar with the situation say that Paramount is being cautious. If Orci lands the assignment, "Star Trek 3" would mark his directorial debut.
I say let him have a go at it. From what I understand, he's one of the biggest supporters and champions of keeping Trek as Trek and not running to far in the wrong direction. I've seen some noise from som quarters about how he, along with the rest of the team that were a part of the new movies should all be fired and that he certainly shouldn't touch the upcoming film with a ten foot pole. But the thing is, I actually liked Star Trek Into Darkness quite a bit. And I think most of the problems I do have with the rebooted franchise can mostly be attributed to JJ Abrams.
In any event, I'm hopeful and think he might be a good choice — though I sure wouldn't say no to seeing what would happen if we let Nick Meyer play in the new playground.