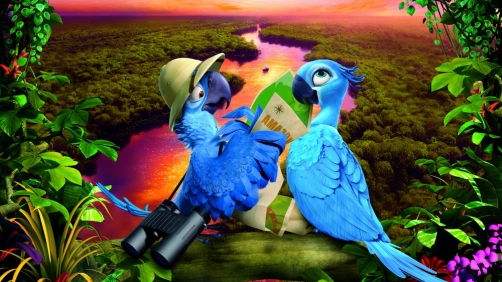 Not actually a lot of new stuff in the theater this weekend, but there's one possible new film you might want to check out, and one I'm certainly not interested in. You may or may not be.
New This Weekend
Rio 2 — G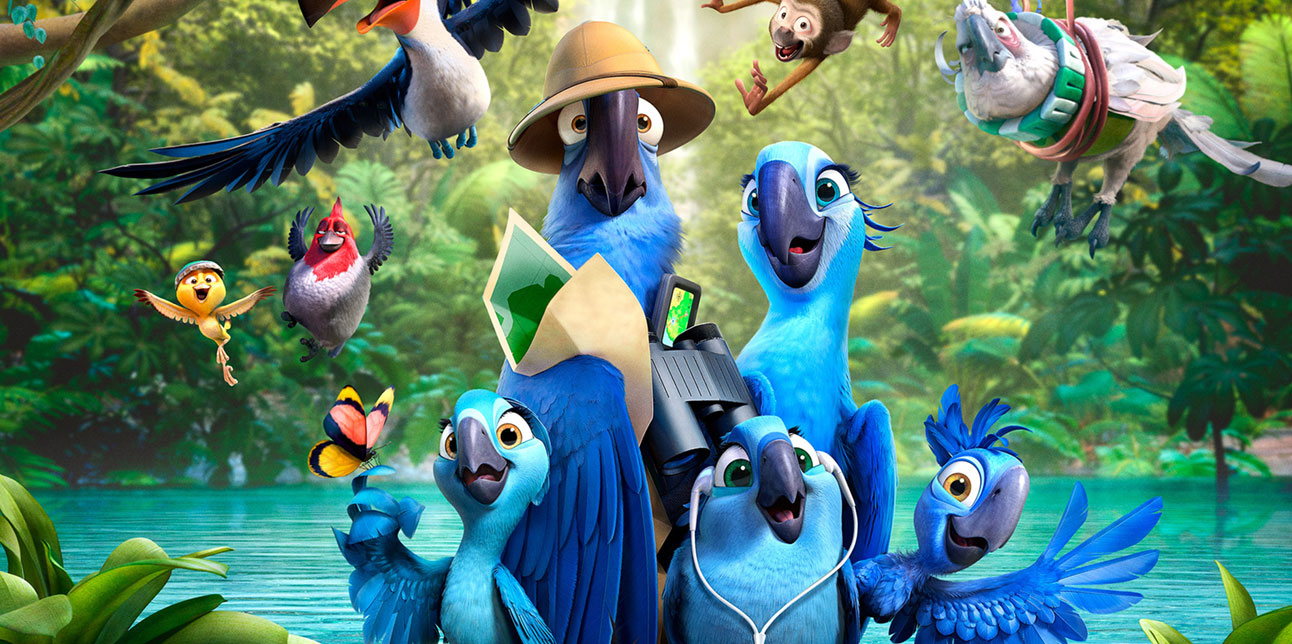 I couldn't imagine why anyone was interested in this film or why it was even being made. And then I actually took the time to watch the first one and now I get it. I liked Rio quite a lot. It was fun, funny, heartfelt, catchy, and generally just a lot of fun. Eisenberg and Hathaway nailed the vocal performances as well. I was duly impressed.
So I'm quite looking forward to seeing this one soon. Unfortunately, this weekend I need to get caught up by seeing Noah.
It's a jungle out there for Blu, Jewel and their three kids in RIO 2, after they're hurtled from that magical city to the wilds of the Amazon. As Blu tries to fit in, he goes beak-to-beak with the vengeful Nigel, and meets the most fearsome adversary of all - his father-in-law.
1 hr 41 min
G | Cartoon/Animation Action
Cast: Anne Hathaway, Jesse Eisenberg, will.i.am, Jamie Foxx, George Lopez, Tracy Morgan
Director: Carlos Saldanha
Genres: Animated, Family
See or not: See
Trailer
---
Captain America: The Winter Soldier — PG-13
I have a very soft spot in my heart for Captain America: The First Avengers. A lot of people complain that it only existed to set up The Avengers but I find that to be quite disingenuous. Yes, the ending leaves you hanging slightly because, duh, it is certainly a lead in to The Avengers. But it is so much more than that. In fact I would say it is one of my favorite superhero films.
I was looking forward to Captain America: The Winter Soldier quite a lot. And I am pleased to report that though entirely different in story and tone from the first Captain America film, it is mostly, pretty much what I wanted from a Captain America film, and the Marvel Cinematic Universe in general. Though not without its little issues, it's a solid 4 star film in my book. It's smart and politically savvy — in fact I would say that the themes of The Winter Soldier in today's political climate are downright genius — it had a lot of good character development, and thought the plot featured a somewhat familiar element, it did not at all feel recycled, or eve all that predictable. Chad, Fizz, and I talked about the film on the podcast this past week, and I obviously highly recommend this one.
After the cataclysmic events in New York with his fellow Avengers, Steve Rogers, aka Capt. America (Chris Evans), lives in the nation's capital as he tries to adjust to modern times. An attack on a S.H.I.E.L.D. colleague throws Rogers into a web of intrigue that places the whole world at risk. Joining forces with the Black Widow (Scarlett Johansson) and a new ally, the Falcon, Rogers struggles to expose an ever-widening conspiracy, but he and his team soon come up against an unexpected enemy.
2 hr 15 min
PG-13 | Gunplay, Intense Sequences of Violence and Action Throughout
Cast: Chris Evans, Scarlett Johansson, Samuel L. Jackson
Director: Anthony Russo, Joe Russo
Genres: 3D, Action/Adventure
See or not: SEE!!
Trailer
---
Noah — PG-13
I've been hearing a lot of things about this film both good and bad. Darren Aronofsky has apparently talked about the liberties he has taken with the text. At the same time, I would actually be okay with some liberties being taken with the story because they are telling a story about only a few verses in the Bible. There's a lot of speculation about what that period of time might have been like. And there's some stuff like, the dove Noah sends out isn't what. So what? I'm not going to quibble about that.
So, we'll see.
The Biblical Noah suffers visions of an apocalyptic deluge and takes measures to protect his family from the coming flood.
2 hr 17 min
PG-13 | Disturbing Images, Brief Suggestive Content and Violence
Cast: Russell Crowe, Jennifer Connelly, Ray Winstone, Emma Watson, Anthony Hopkins, Logan Lerman, Douglas Booth
Director: Darren Aronofsky
Genres: Action/Adventure, Sci-Fi/Fantasy
See or not: Should be worth seeing and being aware of
Trailer
---
Divergent — PG-13
This film was better than I was expecting. The trailers looked so cheesy. I really did like the film once I got past some initial plot contrivances. Shailene Woodley is a far better actress than I at first thought, and The James wasn't too bad either.
In short, this film is well worth your time (after you've seen Captain America: The Winter Soldier of course). Check out my review, as well as Chad's and my conversation on The MovieByte Podcast.
DIVERGENT is a thrilling action-adventure film set in a world where people are divided into distinct factions based on human virtues. Tris Prior (Shailene Woodley) is warned she is Divergent and will never fit into any one group. When she discovers a conspiracy by a faction leader (Kate Winslet) to destroy all Divergents, Tris must learn to trust in the mysterious Four (Theo James) and together they must find out what makes being Divergent so dangerous before it's too late. Based on the best-selling book series by Veronica Roth.
2 hr 20 min
PG-13 | some sensuality, intense violence and action and thematic elements
Cast: Shailene Woodley, Theo James, Kate Winslet, Ansel Elgort, Ray Stevenson
Director: Neil Burger
Genres: Action/Adventure
See or not: See
Trailer
---
Muppets Most Wanted — PG
This is a pretty good one, folks! It has all the humor you would expect, a good Muppet plot, and a lot of great cameos. What else could you ask for? Chad and I talked about it on The MovieByte Podcast and we thought it was a lot of fun. Chad didn't like it quite as much as I did, but he also recommends it.
Disney's "Muppets Most Wanted" takes the entire Muppets gang on a global tour, selling out grand theaters in some of Europe's most exciting destinations, including Berlin, Madrid and London. But mayhem follows the Muppets overseas, as they find themselves unwittingly entangled in an international crime caper headed by Constantine—the World's Number One Criminal and a dead ringer for Kermit—and his dastardly sidekick Dominic, aka Number Two, portrayed by Ricky Gervais. The film stars Tina Fey as Nadya, a feisty prison guard, and Ty Burrell as Interpol agent Jean Pierre Napoleon.
1 hr 46 min
PG | Some Mild Action
Cast: Ricky Gervais, Tina Fey, Ty Burrell, Ray Liotta, Steve Whitmire, Eric Jacobson
Director: James Bobin
Genres: Comedy, Family
See or not: See!
Trailer
---
What can I say? I wasn't expecting to like this film, but I did anyway, despite having some problems with it. It was fun, it was entertaining, and it had far more heart than I was expecting. Chad wrote a review, and we talked about it on The MovieByte Podcast.
Mr. Peabody (Ty Burrell), the most accomplished canine in the world, and his boy, Sherman (Max Charles), use a time machine called the Wabac to embark on outrageous adventures. However, when Sherman takes the Wabac without permission to impress his friend Penny (Ariel Winter), he accidentally rips a hole in the universe and causes havoc with world history. It's up to Mr. Peabody to mount a rescue and prevent the past, present and future from being permanently altered.
1 hr 31 min
PG
Cast: Ty Burrell, Max Charles, Ariel Winter
Director: Rob Minkoff
Genres: 3D, Animated
See or not: See
Trailer:
---
Non-Stop — PG-13
I liked this film better than I thought I would. I would say it was quite an enjoyable experience at the cinema, actually. It's not going to be the best film you see this year, or probably even in the next couple of months, but it was quite a fun ride, even if it did have some flaws. Liam Neeson is a great actor and when you put a gun in his hands on a plane, well, things usually don't work out for the bad guys, but they work out okay for us. That's certainly the case here.
I wrote a review which you might be interested in, and Chad and I talked about the film on The MovieByte Podcast.
Global action star Liam Neeson stars in "Non-Stop," a suspense thriller played out at 40,000 feet in the air. During a transatlantic flight from New York City to London, U.S. Air Marshal Bill Marks (Neeson) receives a series of cryptic text messages demanding that he instruct the airline to transfer $150 million into an off-shore account. Until he secures the money, a passenger on his flight will be killed every 20 minutes. The film reunites Neeson with "Unknown" director Jaume Collet-Serra and producer Joel Silver, and co-stars Golden Globe Award winner Julianne Moore.
1 hr 47 min
PG-13 | Intense sequences of action and violence, some language, sensuality and drug references
Cast: Liam Neeson, Julianne Moore, Nate Parker
Director: Jaume Collet-Serra
Genres: Action/Adventure, Suspense/Thriller
See or not: SEE
Trailer