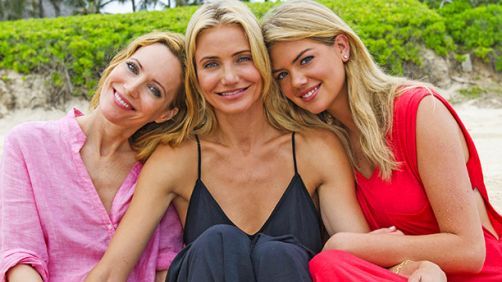 Anthony Breznican — Entertainment Weekly
The threesome of Cameron Diaz, Leslie Mann, and Kate Upton proved to be too much for Captain America: The Winter Soldier.

Fox's raunchy girlfriends comedy, about two mistresses who team up with a man's insecure wife to ruin his life and rediscover theirs, earned $24.7 million to bump the Marvel superhero from his three-week box office run at No. 1.

It was a surprisingly high number for The Other Woman, given that some analysts speculated the movie would do about half that by appealing strictly to female moviegoers. Given Diaz's comedy track record with everything from There's Something About Mary to Bad Teacher, those concerns didn't really hold The Other Woman back. Also, when you cast Sports Illustrated swimsuit model Upton as a scantily clad character referred to as "the boobs" in a movie's trailer, it's not exactly bro-repellent.
What is wrong with you people? How could this make more money than Captain America this weekend? Ugh!
Captain America sank to a respectable No. 2, still going strong in its fourth weekend, for a weekend yield of $16 million and a domestic total of $225 million (and roughly $645 million globally). The first Captain America ended at $177 million domestically, and a mere $370 million worldwide.
At least that's really good!