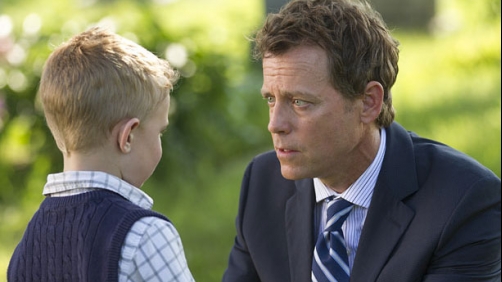 Lindsey Bahr — Entertainment Weekly
It's no secret that Christian-themed films have the potential to be box office gold, but even though faith-based audiences are starved for more material, it doesn't always pan out the way studios might hope.

While Paramount's expensive and provocative Darren Aronofsky-directed Noah continues to climb the steep slope toward domestic profitability and Mark Burnett and Roma Downey's Son of God failed to reach Passion of the Christ heights (after seven weeks in theaters it still hasn't even made Passion's opening weekend numbers), the independently released God's Not Dead came out of nowhere and stunned the major studios with its mighty box office ascent. The $2 million film, now playing in 1,860 locations, has made nearly $41.5 million in just four weekends in theaters.

Now, TriStar Pictures is rolling out its drama Heaven Is for Real on Wednesday in 2,400 locations. Based on the best-selling book by Pastor Todd Burpo about his real-life encounter with the divine, Heaven Is for Real tells the story of his young son, who claims to have visited Heaven during a near-death experience. Greg Kinnear portrays the pastor in the adaptation, and newcomer Connor Corum plays his son Colton. Despite the heavy religious bent, analysts believe that the film will play to both faith-based and mainstream audiences and predict a $20 million five-day opening for the $12 million film.
I saw the trailer for this in front of Noah and it looks TERRIBLE! Awful. Bad theology, terrible, sappy filmmaking. In short I certainly won't be seeing this and I don't want it to do well.
That might seem harsh coming from someone who considers himself a devout follower of the Lord Jesus Christ, but I don't think this film represents my Lord or the Gospel. We are to call people to repentance from their sins and preach the gospel to all nations, not wow them with stories of what heaven is supposedly like.
Go ahead guys, give me flack for this, but I will not see this film.