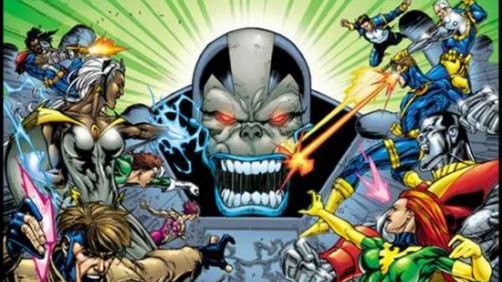 Russ Fischer — /Film
It is standard procedure for a comic book movie to end with a post-credits scene that points toward the next film to come. Once the full credits roll has gone by at the end of X-Men: Days of Future Past, there's a big one. But the scene doesn't feature anyone that casual audiences are likely to recognize, and it isn't set in a location that is familiar to the X-Men films. So what's it all about? We've got the Days of Future Past post-credits scene explained below. (Consequently, full spoilers for Days of Future Past are after the break.)

To recap, once the film's credits end, the screen opens back up on a scene in ancient Egypt. We see a robed man atop a hill, apparently controlling the movement of giant blocks, which are building a pyramid. A great many people bow to him as they intone a rhythmic chant. The camera swings around the figure to reveal a smooth-faced young man with grey skin and blue lips.

So who's that guy?
Worth clicking through and reading if you're a fan interested in what's to come as I am.