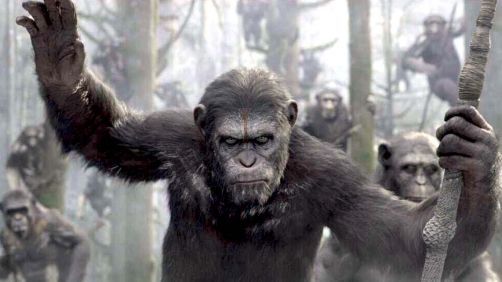 Rodrigo Perez — The Playlist
Biting sharply into Michael Bay's box-office hegemony, 20th Century Fox's "Dawn Of The Planet Of The Apes" took the #1 spot this weekend with an extremely healthy $73 million opening. That's up around 33% from 2011's "Rise Of The Planet Of The Apes," a surprise hit that veered very close to $500 million worldwide. A lot of components factored into its success: extremely positive reviews (here's ours), great word of mouth and little competition And considering Matt Reeves' sequel is darker, more adult and nowhere near as "crowd-pleasing" as the average blockbuster (at least not in the traditional sense), this is a great sign for Fox and the lifespan of this franchise, especially when a A- Cinemascore means audiences were very satisfied. Couple that with weak box-office competitors next weekend ("Sex Tape," "The Purge" sequel), its possible 'Apes' could remain at #1 next week and or at least continue to do considerable business for the next few weeks (its $73 million gross is higher than the 14 films combined in the box-office top 15 this week).
That's all good news to me and I'm greatly looking forward to seeing it tonight.
But then there's this:
Meanwhile, the disparity in international and domestic box office keeps growing for immense spectacle pictures. These days, the rule of thumb is practically becoming: if the blockbuster is performing well globally, it's may not be charting as well at home. Take Michael Bay's "Transformers: Age Of Extinction" which has grossed a stellar $752 million in three weeks of release. Guess what? That makes it the highest grossing film of the year worldwide, surpassing "X-Men: Days Of Future Past."
Please, just stop. STOP! This film is easily the worst of the year so far, and will possibly be the worst of the year when the year is over. What is this madness?