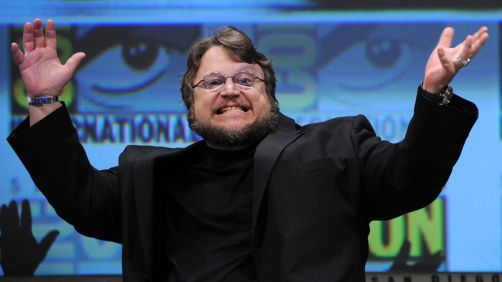 Michael Calia — The Wall Street Journal
Without spoiling anything, what can fans expect from "Pacific Rim 2″?

We are three years away, so to spoil anything would be fantastically silly of me. What I can tell you: [screenwriter Zak Penn] and I really went in, we started with [screenwriter Travis Beacham] about a year and a half ago, kicking ideas back and forth. And, admittedly, I said to Zak, let's keep kicking ideas till we find one that really, really turns the first movie on its ear, so to speak. (…) It was hard to create a world that did not come from a comic book, that had its own mythology, so we had to sacrifice many aspects to be able to cram everything in the first movie. Namely, for example "the Drift" (editor's note: the neural link between pilots of the giant robots, or jaegers), which was an interesting concept. [Then there was] this portal that ripped a hole into the fabric of our universe, what were the tools they were using? And we came up with a really, really interesting idea. I don't want to spoil it, but I think at the end of the second movie, people will find out that the two movies stand on their own. They're very different from each other, although hopefully bringing the same joyful giant spectacle. But the tenor of the two movies will be quite different.
My crystal ball is a bit fuzzy at the moment, so it is unclear to me if this will be a good thing or a bad thing.
Here are also some details on the upcoming animated Pacific Rim series as well.
What can you tell me about the animated "Pacific Rim" series? Do you know which network will carry it?

We are talking about all the possibilities in terms of networks. We're formulating ideas that are, again, interesting and not the usual route, but the series tackles the stories that happened to pilots working in the Shatterdome (editor's note: a building where jaegers are built and maintained and pilots train), but also cadets learning how to become pilots. All of this happens prior to the first movie, and it gives you a little more depth into the background of certain characters that will appear in the second movie. So it's really expanding the material. I was incredibly happy with the comic book series that came about from a graphic novel called "Tales From Year Zero," and we are continuing the tales for the next three years. So by the time the second movie comes out, you will have probably one year of the animation airing, and you will have three years of the comic book series ongoing, so we are trying for all these things to be canon, to be in the same universe, to not wing anything, so that if anyone … a lot of kids, for example, have discovered "Pacific Rim" through the toys. They come in through the toys, and then they watch the movie, and then they learn this, they learn that through the movie or the comic book series, so we're trying to make it canon so we can expand the universe. And by the time we come into the second movie, you have a good feel for the world, and we can dedicate ourselves to character and ideas and spectacle.
I'm still skeptical about the animated series and it feels like something I can skip and not feel like I'm missing much.