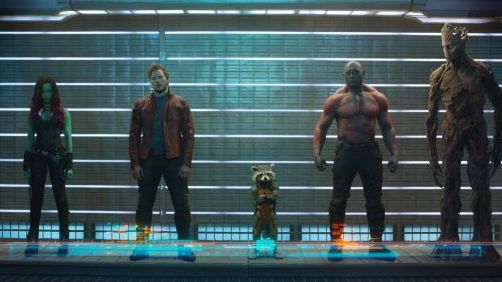 Pamela McClintock — The Hollywood Reporter
The Marvel and Disney tentpole will play in more than 4,080 theaters, the widest August release in history; "It's much more of a space opera than a superhero movie," says director James Gunn.

Gunning for one of the top August openings of all time in North America, Guardians of the Galaxy is expected to open to at least $65 million this weekend, a strong start for Marvel Studios' new franchise.

Some believe director James Gunn's Guardians has a shot at approaching, or crossing, $70 million, although no one is placing any bets considering the steep downturn overall at the summer box office. If it does, it would eclipse the $69.2 million domestic debut of record-holder The Bourne Ultimatum on the same weekend in 2007. The No. 2 August title is Rush Hour 2, which opened to $67.4 million in 2001.
I don't know if it's going to quite make it to $70 Million, but I suspect this is going to be a pretty big one.